The internet and government agencies offer many resources to find someone anywhere in the world. There are a variety of reasons people search for others. Relatives may need to communicate vital information or check on the welfare of someone overseas. The person may be a long lost friend or relative. The person may also be a fugitive, a key witness, or a spouse that will be served papers. Searching for someone who could be anywhere, when done professionally, is known as skip tracing. Professionals can be called skip tracers, bounty hunters, or private investigators depending on the situation.
General Internet Search
Determine the reasons for locating the person. The reason for finding the person will dictate the measures and lengths taken to locate a person. If you have lost touch with someone, social media and the internet are good first steps. Search social networking sites. LinkedIn and Facebook have been used to connect old friends and colleagues. Use a search engine to look for a person. Typing in an old friend's name on your favorite search engine should bring up a list of any public website that includes an individual's whole or partial name.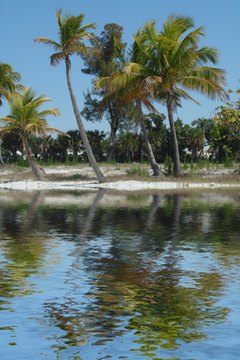 palms on a tropical island image by Pix by Marti from Fotolia.com
Gather as much information about the person as possible. Confirm their last known whereabouts. Speak with family and friends to verify when they last spoke with the individual. Visit the places the person used to go to understand the individual's likes and preferences. Review credit card and bank statements where reasonable or available. The information gathered will help to deduce places where the person is likely to gravitate.
Government Agencies
When an Internet search doesn't yield concrete results, consider using other resources such as the Department of State (DOS). The DOS requests that all Americans traveling abroad register with them so that they can be contacted in an emergency. Likewise, they will look for American citizens if they are suspected to be in danger.
Contact the Internal Revenue Service or Social Security Administration. These two agencies will kindly forward a letter to a U.S. citizen that may be avoiding you, but not them. The sender must be motivated by good intentions, such as to notify someone of the death of a relative. Keep in mind that these agencies won't give you the address of the person, but will forward message to them. It's then on that persona to respond to your message.
Tracer Software
Acquire skip tracer software. Software for law enforcement, bounty hunters, skip tracers and private investigators offers access to databases not readily available to the public. Software such as Accurint, USNet, and Realtime Spy are a few examples of these programs. These programs are useful especially if the person is in hiding and doesn't want you to find them.