With very few laws governing firearms, Texas has long been considered a "gun-friendly" state. Some guns are permitted in cars in Texas, other guns are not.
Shoulder Arms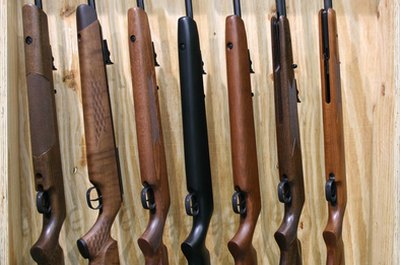 scattergun image by Pavel Losevsky from <a href='http://www.fotolia.com'>Fotolia.com</a>
Shoulder arms, or long guns, are guns with a stock that is braced against the shoulder when firing. Shotguns and rifles are shoulder arms. There is no restriction in Texas on shoulder arms being transported in cars.
Handguns
While you must be 21-years-old to obtain a permit to carry a concealed handgun in Texas, Texas House Bill 1815 made it legal, with few restrictions, for a person to carry a concealed handgun in their vehicle without a permit. You must keep the handgun hidden from view and not be engaged in illegal activity to conceal a handgun in your vehicle in Texas.
Machine Guns
machine gun kalashnikov on the tripod and optical image by Vladimir Melnik from <a href='http://www.fotolia.com'>Fotolia.com</a>
It's illegal to possess a machine gun, silencer, short-barreled firearm or explosive weapon in Texas. It is also illegal to create, transport, repair or sell these items so these types of guns would be prohibited in vehicles under Texas law.