Table of Contents:
How to File for Legal Separation in Ohio
Look over the grounds for legal separation in Ohio and make sure you meet at least one of them. According to Ohio Code 3105.17, reasons for legal separation include: not knowing about another husband or wife of your current spouse living at the time of your marriage, willful absence for one year, adultery, extreme cruelty, fraudulent contract, gross neglect of duty, habitual drunkenness, imprisonment, lived separately for one year or incompatibility.
Acquire the necessary forms to file a complaint requesting a legal separation. You can find these on some Ohio county court websites, from an attorney or from the domestic relations division of the local common pleas court. The forms you require depend on your situation. You will need at least a DR-1, DR-1A, DR-1B, DR-1C and DR-1D form. These forms cover your personal information and financial information. If you have kids, you will also need DR Form 729.
Fill out the necessary forms and file them with the domestic relations division of your local common pleas court. If there is not a domestic relations division at your local common pleas court, you can file it with the general division. You can find the information for your local common pleas court on "The Supreme Court of Ohio and the Ohio Judicial System" website.
Wait for the non-filing spouse to be served with the complaint for legal separation. If the non-filing spouse contests the separation, they must file an answer to the complaint. If both parties agree, the legal separation hearing will be set. If the parties disagree, there will be a series of pre-trial hearings first.
Discuss with your spouse the terms of your separation. Make sure you cover child support, child visitation, financial support, division of property and responsibility for any debt.
Fill out a separation agreement if you and your spouse can come to an agreement on all the issues discussed. You can type up a general letter outlining the topics you discussed and the result of your agreement.
Bring your separation agreement with you to court or the judge will make the decision himself after looking at evidence and listening to testimony.
How to File Legal Separation in Colorado
Step 1
Reside in Colorado for 90 days prior to filing for legal separation, or confirm that your spouse has lived in Colorado for 90 days prior to filing. You and your spouse may file for separation jointly in front of a notary public or court clerk or independently.
Step 2
Complete a Case Information Sheet (JDF 1000), and a Petition for Dissolution of Marriage or Legal Separation (JDF 1101) as provided on the Colorado State Judicial Branch website. If you are filing independently, you will also need a Summons for Dissolution of Marriage or Legal Separation (JDF 1102). These must be filed in the county where you or your spouse lives.
Step 3
Serve the forms completed in Step 2 to your spouse if you are filing independently. A disinterested party over the age of 18 must serve the forms. These forms must also be notarized and returned to the court to provide proof of service.
Skip this step if you and your spouse are filing together.
Step 4
Complete a Certificate of Compliance (JDF 1104), a Sworn Financial Statement (JDF 1111), a Separation Agreement (JDF 1115), an Affidavit for Decree Without Appearance (JDF 1201) and a Decree (JDF 1116).
If you have children, the Affidavit for Decree Without Appearance is waived. Instead, the couple must file a Parenting Plan (JDF 1113) and Support Order (JDF 1117).
In cases where one party does not agree with all issues in the Separation Agreement, each must also file a Pretrial Statement (JDF 1129).
Step 5
Complete an Initial Status Conference (through the court) with your spouse to discuss your case, exchange forms and check the status of all submitted forms.
If you and your spouse disagree on any aspects of the separation, you may then have to participate in a mediation through the court to resolve any issues. If issues are not resolved in mediation, you will then appear in a contested hearing in front of the court to provide testimony and evidence against your spouse.
Step 6
File your Decree (JDF 1116) after the 90th day after filing for legal separation, provided that all other documents are complete.
How to File for Legal Separation in Utah
Hire a lawyer before beginning the separation process. A lawyer is not necessary for a legal separation, but if you are concerned with child custody or monetary issues, a lawyer could improve your case.
Visit your county court and request the paperwork to file for an action for a temporary separation. Fill out the forms and return them to the court (your lawyer is allowed to help you). You must pay a $25 fee to file the forms. Within 20 days you and your spouse will receive a summons to appear in court.
Go to court on your trial date, and explain your reason for legal separation to the judge, as well as your child custody and monetary concerns. The judge will grant a decree of legal separation which details child custody, spousal support, and property and debt division.
Enroll in an orientation course after the decree of legal separation is ordered (if you have children, you and your spouse will be required to enroll). If you do not believe attending the orientation course is necessary or possible, you can request that the requirement be waived by the judge.
Decide whether you want to file a petition for divorce. If you decide to get divorced after filing for legal separation, you can do so at the court, which will get attached to your original request for separation, so that you do not need to redetermine monetary and child custody issues.
Filing for Legal Separation in Illinois
Illinois law permits a married couple the ability to seek what is known as a legal separation. The process is straightforward, requiring one of the spouses to complete and file a simple petition. A legal separation proceeding results in an order from the court resolving all issues surrounding a marital relationship, including division of assets and debts and those relating to children. The only difference between a legal separation action and divorce under Illinois law rests in the fact that the marriage itself is not terminated in a legal separation.
Locating the Documents
You won't need to write your petition for separation from scratch. You can obtain a standard form or template, which is available from the circuit court clerk in the county where you reside. Alternatively you can download a template for a petition, and all necessary documents associated with a legal separation, from Southern Illinois University School of Law. Read through the documents and be sure you understand them, before you start.
The Basic Requirements
If you're going to file for separation in Illinois, you must have lived in the state for at least 90 days. If custody is involved, you and the children normally must live in the state for at least six months before filing. You must be living apart, either by mutual consent or because one of the parties has done something to damage the marriage. You can file as long as you're not the one who misbehaved, otherwise your partner must file and you can choose whether to agree with the petition.
Completing the Petition
Completing the petition requires you to include basic information about yourself, your spouse, your finances and your children. The standard form or template includes blanks where you input the information required by Illinois law. When you're done, a simple signature completes the petition; you don't need to sign in front of a notary. If you're separating by mutual agreement, your signs the petition as well. Joint petitions are routinely filed in Illinois circuit courts.
The Rest of the Process
Take the documents to the court in the county where you'll file the petition. This is usually the county where your spouse lives, but if your spouse lives outside of Illinois you should file in the county where you live instead. Pay the filing fee, which varies from one Illinois circuit court to another. The circuit court clerk can tell you how much the fee is in your county.
Tip
Obtain the documents you need to pursue your legal separation case from Southern Illinois University School of Law at:
Southern University School of Law 1150 Douglas Dr. Carbondale, IL 62901 800-739-9187 law.siu.edu
Warning
If your spouse objects to a legal separation and desires a divorce, your legal separation case likely will be dismissed by the court. In Illinois, a legal separation case requires that both spouses either agree to the procedure or one spouse desires a legal separation and the other spouse does not object. A spouse filing for divorce trumps another spouse seeking a legal separation.
Getting a Legal Separation in Arkansas
Decide whether to "lawyer up." In Arkansas, you are not required to obtain a lawyer in order to make a legal separation agreement. Considering the highly charged emotional nature of separation (and the divorce proceedings which may come afterwards), it is often wise to have a legal expert on your side. Lawyers who are trained in family and divorce laws will often be able to offer excellent advice on the strategies you should take, the ruling histories of local judges who might be charged with the case and other factors.
Arrange terms of the separation agreement. Often, legal separation agreements address issues such as child custody and support (who will have primary custody of any children you have with your spouse, what will visitation rights be for the spouse who does not have primary custody, how much will the spouse with primary custody be paid by the other for the child's care); property division (along with deciding who, if either person, will be allowed to stay in the former couple's home, a separation agreement should determine how property such as vehicles, furniture and monetary assets will be divided); and alimony (based on the financial and working arrangements during the marriage, the former couple will need to determine whether either spouse is obligated to pay some sort of support to the other). Often, attempting to negotiate and compromise with the other side is more fruitful than going to battle and using strong-arm tactics.
Bring the separation agreement before the courts. Once a legal separation agreement is drawn up (hopefully with lawyers present to ensure that the agreement meets state legal guidelines and standards and so is likely to be more quickly accepted by a judge), the two sides must file the separation with the local courthouse in order for a judge to review the document and either approve it and the terms of the separation, or not. Again, it is helpful to have lawyers assist both sides with these proceedings, as they can give the best representation of their client from a legal standpoint. The court will also take responsibility for maintaining the terms of the legal separation for the future, so that neither side can go back on the terms that were decided upon.
How to File a Legal Separation in New York
Confirm that you meet the residency requirements to file a complaint for legal separation. Most of the time either you or your spouse must have lived in New York for at least one year prior to filing the complaint.
Prepare a complaint for legal separation and summons. Forms for a complaint for divorce and summons can be found on the New York Court Help website (See Resources). Use these forms by simply replacing all references to divorce with the words "legal separation." The complaint must include the full names and birthdates of you, your spouse and all minor children of the marriage, the dates of marriage and separation, the grounds for the separation, a statement regarding residency and a brief description of what you are asking the court to grant you in the separation.
Serve the summons to your spouse to notify him or her that you have filed the complaint. In New York, service must be effectuated by personal service. This means someone must personally hand your spouse the complaint.
Make several copies of the complaint and summons. Take the complaint and summons to the clerk's office in the county where you are planning to file and file them there. Pay the required filing fee.
If your spouse agrees to the separation, you may have the court clerk place your case on the court's calendar immediately after service has been completed. If your spouse does not agree, you must wait at least 40 days after service was completed.
File an agreement with the court if you and your spouse reach an agreement that addresses all the issues in your separation. If you reach an agreement on your own, you will not need to appear in court. The judge will sign the decree of separation and you will be legally separated.
Appear in court for a hearing if you are unable to reach an agreement that resolves all issues. At the hearing, the judge will review evidence and listen to testimony before ruling on the contested issues. After the hearing the judge will sign the decree and you will be legally separated.
How to File for a Legal Separation in Oregon
Confirm that you qualify to file a legal separation in the state of Oregon. Oregon allows legal separations when the parties have suffered irreconcilable differences that have caused a temporary or permanent breakdown of the marriage. The legal separation must either be by agreement of the parties or the court must find that the separation is warranted because continuing as married persons "preserves or protects the legal, financial, social or religious interests" of the parties.
Determine where to file the petition for legal separation. One of the parties must be domiciled in Oregon. You will then file in the county where either you or your spouse lives within the state of Oregon.
Prepare a petition for legal separation and summons. The contents of the petition must include the full names of the parties (you and your spouse), full names and birth dates of any minor children, date of the marriage and separation and a statement regarding residency requirements. It must ask the court for all the relief you are seeking. Relief includes custody of children, child support, division of assets and debts, rights to any marital property and anything else you want from the separation. The summons is served on your spouse to notify him that you have filed the petition.
Make several copies of the petition and summons. File the petition and summons with the court. Pay the required filing fee.
Serve your spouse with the summons and petition. Your spouse may voluntarily accept service or you may serve the papers via civil sheriff or another neutral adult.
How to File for a Legal Separation in Indiana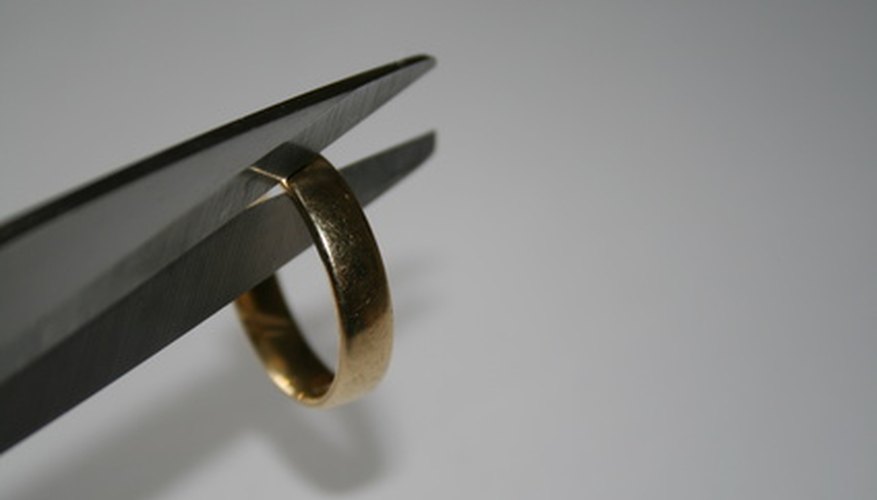 Indiana allows married couples to apply for legal separation by filing the appropriate court documents with your county clerk's office. Once you've paid the ascribed filing fees, your petition for legal separation and the summons notifying your spouse of your intentions will enter the court system. In the end, the separation order issued by the court will provide for marital support payments and determine matters of child custody, child support and visitation rights, just like a divorce. But unlike a divorce, you're not free to remarry.
Grounds for Separation
Either spouse may file for legal separation. A least one spouse must have been a resident of Indiana for six months and one or both must have resided in the filing county for three months. Before granting legal separation, an Indiana court must find that the circumstances of your situation are currently so intolerable you can't live together but that reasons exist to maintain the marriage contract.
Beginning the Process
Before filing any legal documents with the court, consider talking to a qualified attorney in Indiana. Legal separations can be complex, especially when there are children or extensive assets involved, and may require the expertise of a licensed lawyer. Even if you decide to file pro se (representing yourself), you can still talk to an attorney to get some practical advice.
Drafting a Petition for Legal Separation
Indiana Code § 31-15-3-4 requires all separation petitions to be titled: "In Re the legal separation of (spouse's name) and (spouse's name). The petition must also include specific information such as where the spouses live, when the spouses were married, the date when they separated, the names and addresses of any children, the grounds for the separation and the kind of relief sought. You must also explain why you believe you and your spouse can no longer live together.
All petitions for separation must be signed and verified by the petitioner. You can verify the petition by signing it in the presence of a licensed Indiana notary public and taking an oath that the information contained within it is true.
Drafting the Summons
The petitioner must notify the spouse that the separation petition has been filed. This is done through the use of a summons. The summons names the opposing party, their address and their contact information so an official copy of the petition can be mailed or delivered to them. Contact your local county courthouse and talk to the clerk's office regarding the appropriate forms to use.
Filing the Petition
After your petition and summons are prepared, you must file them with the county clerk's office. You'll have to pay a filing fee. The amount can vary by county and according to how you wish to deliver the paperwork to your spouse. They may be sent via certified mail or served in person by the local sheriff's department. Contact the clerk's office before you go to the courthouse for information regarding the fees and acceptable payment methods.
How to File for Legal Separation in Maryland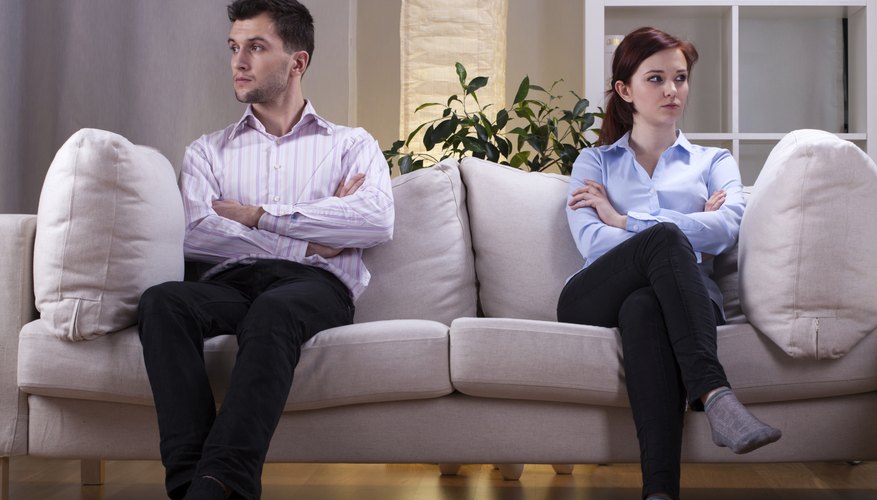 In Maryland, legal separation and a limited divorce are the same thing. You'll receive a judgment defining the terms of how you and your spouse will live separately, but you're still legally married. This can be helpful if you're not yet ready to divorce but you need the court to order financial help from your spouse. Or, perhaps you haven't yet met the state's grounds for no-fault divorce — a full year's separation — but you want an order governing the situation until you do.
Filing for Limited Divorce
The filing process for a limited divorce in Maryland involves completing Domestic Relations form 21, a complaint. The form asks you to state when you were married and to confirm that you've met the state's residency requirement for divorce -- either you or your spouse must have lived there for at least one year. You must identify your children, if you have any, list any other times you've been in court regarding custody, and explain where your kids have lived and with whom. Tell the court what you want the judge to order regarding custody and visitation, and whether you're asking for alimony or spousal support. The court's ability to divide your property is limited when you file for legal separation rather than divorce. The judge can't terminate either spouse's ownership interest in assets, but she can make orders regarding which of you can have possession of certain property while you live separately.
Choosing Your Grounds
Maryland recognizes five grounds for limited divorce and you must check off a box on the complaint form, indicating which ground applies in your case. You can use voluntary separation if you've already begun living apart; desertion; constructive desertion; cruelty; or excessively vicious conduct toward you or your children. Constructive desertion means you were the one who left your marriage, but your spouse's behavior forced you to do so.
Serving the Complaint
The next step involves filing your complaint with the circuit court that serves your county. You must include a civil domestic case information report, which you can access on the state's judicial website. Then you must serve your spouse with a copy of your complaint. When you file it with the court, the clerk will give you a writ of summons — make sure your spouse gets a copy of this, too. You can serve him by mail in Maryland if you do so by restricted delivery and he signs a receipt, but you must have another person over the age of 18 arrange for the mailing. You can also have a private process server, sheriff or any adult over age 18 hand deliver a copy of the paperwork. The individual who does this must sign an affidavit, attesting that service of the documents on your spouse was accomplished. If you use the mail option, the return receipt acts as proof that your spouse received the documents. In either case, you must file the proof with the court.
Financial Statements
If you're asking the court to make any financial decisions regarding your separation, such as alimony or child support, you must also complete a financial statement that lists your income, assets, debts and living expenses. Your spouse must do the same, and you must exchange copies and file the statements with the court. Use Domestic Relations form 31 if you're asking for child and spousal support, or form 30 if you're asking only for child support. You'll also need to complete a child support guidelines worksheet if you have kids.
If Your Separation is Not Contested
If your spouse contests your limited divorce, you'll have to go to trial so a judge can resolve any outstanding issues. If your matter is uncontested, you can draw up a property settlement agreement and take it to court with you to finalize the legal separation. Your spouse doesn't have to appear if you're the one who filed the complaint, but Maryland requires that you bring a witness to confirm your grounds for asking for a legal separation.
How to File for a Legal Separation in Massachusetts
Step 1
Obtain and complete a complaint for separate support form. This form is available from the Probate and Family Court in your county. It also is available for download from the website for The Massachusetts Court System.
Step 2
Gather supporting documents. The required documents are a copy of the marriage certificate, an affidavit of care and custody for any children from the marriage and financial statements. The "Child Support Guidelines Worksheet" and the Financial Statement form (short or long form) are available for download from The Massachusetts Court System website.
Step 3
File the "Complaint for Separate Support" form with the court clerk at the Massachusetts Probate and Family Court Department in your county. Also, file a certified copy of your marriage certificate, the affidavit of care and support for your children and the applicable fee. Visit the website for The Massachusetts Court System for a list of Probate and Family courts by county.
Step 4
Wait for the court to issue a summons to you. The summons, which is directed to the defendant, will include the name and address of the parties, the name and address of the plaintiff's attorney, if applicable, and the time when the defendant is expected to appear. The form also will inform the defendant that a failure to appear will result in a judgment for the plaintiff.
Step 5
Serve the defendant. Deliver or mail the copy of the complaint and the summons to the Sheriff's department in the county where the defendant resides. The sheriff or deputy sheriff will serve a copy of the documents to the defendant, then mail the original copy of the summons back to you. The official will fill the back of the summons with a statement of service. File the summons with the court as proof of service.
Step 6
File for a court hearing after submitting the summons. The judge will enter a judgment for separation at the end of the hearing.
How to Get Legally Separated in Kentucky
Live apart from your spouse for at least 60 days. You must live apart for 60 days before starting legal separation proceedings. One spouse must be a Kentucky resident for at least 180 days.
Determine whether you want to permanently leave your spouse, or just can't live with your spouse. If you and your spouse agree on issues like finances and child custody, you don't have to petition the court. But if you and your spouse can't agree on these issues, you should petition for legal separation.
File a Petition for Legal Separation at your county courthouse. Hire a lawyer to help you fill out this form if it's confusing. Pay the filing fee, which varies by county. The other spouse will be served either through mail or by the authorities with a summons and the petition.
Write up the terms of the separation, including custody and finances if both parties agree. This document is then filed with the court. If the parties don't agree, a judge will hear the case or the couple will go through mediation.
Make a motion to enter a Decree of Legal Separation to the judge. This states that the couple is married, but separated. The couple cannot move for a divorce for 365 days.
How to File a Legal Separation in Georgia
In Georgia, the term "legal separation" is not used. Instead, couples who want to live separately, but remain legally married, must seek a Decree of Separate Maintenance. This allows the court to decide marital issues such as finances, property division and custody of children without granting an actual divorce.
Meaning of Legal Separation in Georgia
Legal separations are recognized in most states, but not in Georgia. According to Georgia law, separating couples have only three options: divorce, which ends the marriage; annulment, which erases the marriage as if it never existed – usually for technical reasons; and a separate maintenance order, which does not legally end the marriage. If you hear the phrase "legal separation" in Georgia, it means something very specific. Couples are not permitted to divorce in Georgia unless they are legally separated, meaning the two people consider themselves separated with the intention to divorce. This is not the same as separate maintenance.
Meaning of Separate Maintenance in Georgia
Separate maintenance is the closest thing to the legal separation permitted by other states. It allows the court to rule on child custody, division of assets and other marital issues, but does not legally end the marriage. Couples may want to remain married for religious, moral or financial reasons and they can seek separate maintenance as an alternative to divorce.
Prepare a Separation Agreement
Before filing for a Decree of Separate Maintenance, you and your spouse should try to reach a settlement agreement that confirms you are physically separated and outlines your requirements for the division of money and property, child custody, visitation schedules and spousal support. Once signed, the settlement agreement is legally binding, and both parties are obligated to observe its terms.
File the Paperwork
After negotiating the separation agreement, you or your spouse must petition the court for a Decree of Separate Maintenance. The judge has the exclusive power to approve your settlement agreement or to order a different settlement if this would be more equitable.
If you are acting without an attorney, collect the forms from the domestic relations division of your local superior court. The forms you require depend on your situation. You will need at least a Domestic Relations Case Filing Information form, Complaint for Separate Maintenance, Verification, and Domestic Relations Financial Affidavit. If you have kids, you will also need a Child Support Worksheet and a Parenting Plan. File all the required paperwork and serve the petition on your spouse personally, either by sheriff or by private process server.
Attend the Court Hearing
Your spouse has 30 days to respond to the petition and put forward their side of the story. If you disagree on many issues, the court can arrange a series of pretrial hearings to be held before the main hearing when the judge will make a final ruling. If you have agreed on all the issues, the court will generally approve the separation agreement you and your spouse have prepared. At the end of the process, you will have a legal ruling on all the financial and child custody issues, but you will still be legally married.
How to File for Legal Separation in North Carolina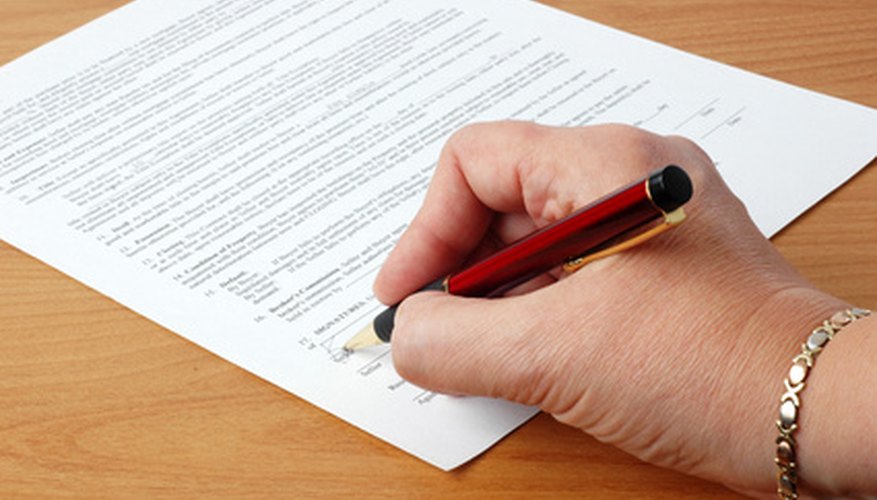 In North Carolina, legal separation indicates that a married couple has been living in separate residences with the intent to continue to live apart. Filing for legal separation requires the creation of a separation agreement, a court-recognized document between a husband and wife signed before a certifying officer. Aside from madness, one full year of legal separation is the only way for couples in this state to divorce.
Consider Professional Assistance
The first step in this process is to determine whether or not you will need an attorney. Since separation may affect child care, custody, alimony and other shared assets, consider consulting an attorney or third-party mediator when writing an agreement. A professional's expertise can help prevent both inconvenient oversights and unnecessary emotional stress as you hammer out your agreement.
The Important Details
Write a detailed separation agreement that indicates that both parties will be living in separate residences. North Carolina requires that each party live apart for at least one year before obtaining a legal divorce through this method. Include details about how you and your spouse will handle shared assets, bills, childcare and custody, if applicable, along with other shared interests.
If You Can't Agree
You can seek resolution in court with a North Carolina judge if you cannot resolve these issues privately, or through lawyers or mediators. This involves a specific process in the courts, called a claim for equitable distribution. Essentially it asks the court to allocate your marital assets fairly between the two parties, as other states do in the case of a divorce proceeding.
The Final Steps
Sign the separation agreement with your spouse in the presence of a certifying officer. In North Carolina, a certifying officer is a notary public or justice, judge, magistrate, clerk, assistant clerk or deputy clerk of the general court of justice for North Carolina. Most importantly, the certifying officer must not be a party to the contract. Retain a copy of the separation agreement for your records. You can now use the written document in court should divorce proceedings occur.
How Do I File for Legal Separation in Nebraska?
File a Complaint for Legal Separation in a district court of Nebraska.
The complaint must include the name and address of the spouses; date and place of marriage; arrangements concerning children, property and debt division; what filing parties want or don't want from each other; a statement requesting legal separation; and a statement indicating parties may later set aside the decree. For more specific information concerning complaint requirements read the Nebraska Revised Statutes.
Have notice served to your spouse that a legal separation is filed in court.
In Nebraska, a sheriff or legally authorized person must give your complaint to your spouse. The court won't decree a legal separation unless your spouse is formally informed of your intent to separate. If your spouse proves unable to be served, ask the court for permission to serve your spouse by alternative methods such as publication in a local newspaper or by sending notice through the mail.
Read your spouse's Answer to the Complaint.
Your spouse has the right within 30 days of receipt of notice to tell his or her side of the story in a written Answer to the Complaint. Your spouse can either agree or disagree with you. Points within the Complaint not agreed upon are later decided by a judge at trial. If your spouse doesn't file an Answer within 30 days, you're granted everything you requested as long as a judge believes your requests are fair.
Develop a parenting plan to comply with the Nebraska Parenting Act if children are involved.
A parenting plan is a judge-approved court document drafted by divorcing or separating parents outlining parenting responsibilities to the children affected by the divorce, including physical custody and visitation.
Appear at a hearing or trial for the judge's ruling.
If your spouse agrees with your side of the story or didn't answer, a judge enters a decree of separation at hearing. If your spouse disagreed with parts of your complaint and you can't reach an amicable agreement, at trial and after hearing both sides of the story, the judge does it for you, including decisions about children, support and division of debts and property.
How to File for Legal Separation in the State of Alabama
You can file a complaint for a decree of legal separation in Alabama if you want to stay married but live apart. You and your spouse can determine the terms of the agreement, or else the court will decide what is fair in terms of property division, financial support and parenting time.
What Legal Separation Means in Alabama
In some states, a couple must live apart for a certain period of time before they are eligible to file for a no-fault divorce. This is sometimes called a legal separation. However, legal separation in Alabama is an entirely different animal.
If an Alabama couple is married but doesn't want to continue living together, they can divorce. If they aren't ready to divorce or can't because of religious beliefs or other personal issues, they can file for legal separation.
Those who are granted a legal separation move into a separate legal status called "legally separated." Their marriage is not dissolved, so neither can marry again unless and until they get a divorce. But they aren't really married either, in that they don't live together.
Filing for Legal Separation
You can file a complaint for legal separation in Alabama, just like a complaint for divorce. One spouse needs to meet a six-month residency requirement, and one or both spouses must want to live separately.
You must file the legal separation complaint with the court and pay the filing fee. If your spouse opposes the motion, you will have to attend an evidentiary hearing. If you and your spouse are in agreement, file a legal separation agreement with the complaint and ask the court to approve it. You may or may not require a court hearing.
Just like in a divorce case, it's easier, quicker and cheaper if you and your spouse arrive at a separation agreement about property division, support issues and parenting time. Separation agreements cover the same topics a divorce agreement covers, including who gets to live in the house, who pays the bills and who gets child custody.
The terms of the legal separation are not cast in stone. They can be changed if both spouses agree on changes or if the court changes them after one spouse shows proof of a material change in circumstances.
Legal Separation vs. Divorce
Why get a legal separation instead of a divorce in Alabama? In general, people who opt for legal separation either have personal beliefs against divorce or have personal issues that would make divorce a problem.
Some religions prohibit divorce, and members of those religions may choose legal separation as a way to keep church rules yet live apart. But it could be something more mundane such as insurance.
Most employers stop providing medical insurance to an employee's spouse once a divorce goes through. But some of those same employers continue covering a spouse who is legally separated but not divorced. If a spouse has a medical condition and might have a hard time getting other health insurance coverage, a legal separation can literally be a lifesaver.
Add uncertainty to the list of reasons for a legal separation. You think you want to go it alone, but you aren't sure. Your spouse won't go for a divorce, but he'll consider a legal separation. It's a middle ground that gives you time to consider your options. You can get together again or file for divorce at any point.
On the other hand, it isn't final. Neither spouse can remarry since they are still married. The couple's rights to date others or have relationships while legally separated are unclear in Alabama.
How to File for a Legal Separation in Michigan
File a Petition for Separate Maintenance at the District Court Clerk's office in the county where you live. This petition asks the court to divide your property and debts and issue orders for child custody, child support and spousal support.
Pay the filing fee. The filing fee varies from county to county. Check with the court in your area to determine the proper fee.
Have your spouse served. Any adult over age 18, a certified process server, or the Sheriff, can serve your spouse with the Petition and Summons for Separate Maintenance. Process servers and the Sheriff's Office both charge fees for service.
Attend Separate Maintenance Hearing. Any contentious issues between you and your spouse regarding marital assets, debts, and child custody will be resolved at this hearing. The judge will sign off on your petition and you will be granted Separate Maintenance.
How to File for a Legal Separation in Washington State
Step 1
Meet the residency requirement. By law, you must be a resident of the state of Washington on the date you file for legal separation. Alternatively, you can also file if you are a member of the armed services stationed in Washington. If you meet either of these criteria, in-state residency of your spouse is not necessary. There is no requirement that you and your spouse be actually separated and living in separate residences at the time of filing for legal separation.
Step 2
Download a petition for legal separation and summons. The document that initiates a legal separation in Washington, the petition for legal separation, can be downloaded in Word format directly from the Washington Courts site linked in the References section. The summons can be downloaded from the same site.
Step 3
File summons and petition in state court. Complete the petition and summons downloaded in the previous step and file them with the clerk of the local Superior Court in your county. A filing fee of approximately $260 will apply, though the precise amount varies by county.
Step 4
Serve process. A copy of the filed petition and summons must be personally delivered to your spouse. Service of process in Washington can occur through the county sheriff, a professional process server or anyone over 18 not a party to the suit.
How to File for Legal Separation in Minnesota
File a petition in the district court in your county. You can find a list of district courts at the Minnesota District Courts website (see Resources section). Your petition must include your and your spouse's name and address and the date and location of your marriage.
Serve your spouse with the summons of your legal separation petition. You (or a server you hire) must personally give your spouse the service of your petition. If you cannot find your spouse to serve the petition, you may ask the court to allow you to serve the petition by mail.
Wait for your spouse to answer the petition for legal separation. He or she will have 30 days to address the claims in your petition.
Negotiate the factors of a legal separation. If you and your spouse can come to an agreement on these issues, a judge will usually sign off on whatever you two have decided. If all factors are uncontested, the judge may grant legal separation without a hearing.
Attend the hearing if the details of the legal separation are contested. The judge will hear both sides of the contested issue and rule for one side. After all issues are decided, he will grant a legal separation for you and your spouse.