•••
Digital Vision./Digital Vision/Getty Images
Permanent Resident
•••
Stockbyte/Stockbyte/Getty Images
After a U.S. citizen marries an illegal immigrant, she does not automatically receive the right to remain in the country. According to the U.S. Citizenship and Immigration Services Department, a U.S. citizen must initiate the petition process to grant permanent residency status to a spouse who wishes to legally immigrate. Proof of citizenship and marriage is required. Once the immigration department receives the green card petition, they will either grant or deny a visa.
Legal Entrances
If the illegal immigrant entered the United States legally, he may be eligible to apply for permanent residency status without leaving the country. A legal entrance means the immigrant crossed the border with an existing visa that has since expired or received an inspection from an immigration officer. There must be no history or intention of visa fraud on the part of the immigrant. The immigrant can file an application to register permanent residence, or adjust status, at the same time the spouse submits the green card petition.
Illegal Entrances
•••
Digital Vision./Photodisc/Getty Images
An immigrant who enters the country illegally by crossing the U.S. border without permission, or through smuggling operations, is not eligible to remain in the United States. Even if she is married to a U.S. citizen, an immigrant who enters the country illegally must apply for permanent residency status from her country of origin. The application process involves an interview with a U.S. Embassy or consulate. An illegal immigrant who crosses the border without immigration approval is still subject to deportation and could face reentry restrictions.
Consular Processing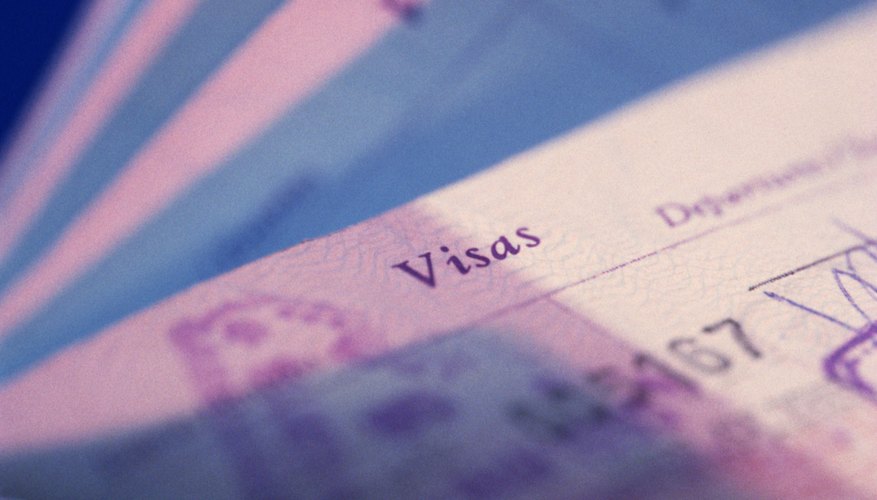 •••
Jupiterimages/Photos.com/Getty Images
Consular processing involves obtaining a visa from his home country. After meeting with a U.S. Embassy, they forward the application to the National Visa Center. An illegal immigrant who leaves the United States to participate in consular processing might face restrictions from future reentry into the country. She may also face penalties for staying in the United States illegally. To avoid reentry restrictions, spouses of illegal immigrants must demonstrate she and any children involved will experience economic hardship if she is unable to obtain resident status.
Digital Vision./Digital Vision/Getty Images