The U.S. Department of Labor's Occupational Safety and Health Administration (OSHA), established through the Occupational Safety and Health Act of 1970, ensures that working conditions for all Americans are safe and healthful. OSHA sets standards that must be met by any and all entities employing workers. Schools are no exception, as they employ teachers, administrative personnel, custodians, food service workers and others.
General Standards
OSHA Standard 29 CFR 1910, Occupational Safety and Health Standards, sets general industry standards for work environments. Although compliance with these standards protects students of a school, their purpose is actually a safe and healthy environment for employees of the school.
Floors and Surfaces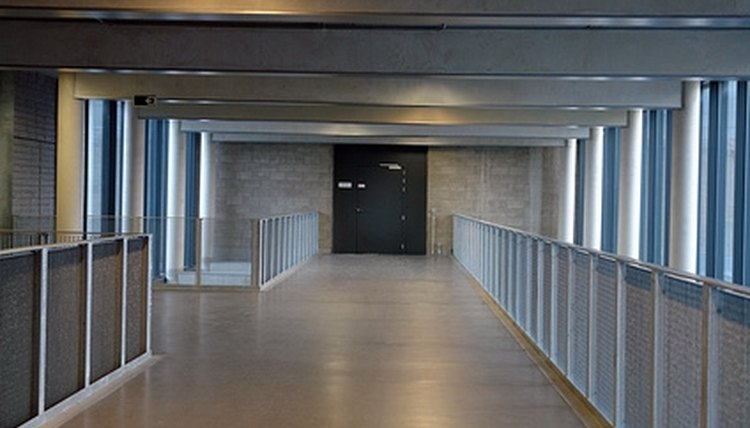 Part 1910 Subpart D, Walking-Working Surfaces, covers safety for surfaces used for work and specifies that any potentially hazardous openings in walls or floors must be guarded. It also requires that sturdy railings be placed around stairwells and other areas where needed for safety or support. Subpart D also stipulates that fixed industrial stairs be provided where there is regular traffic flow of employees between levels of any structure. Additionally, it restricts the use of spiral stairways, except for "specific limited usage." Subpart D also mandates stair treads be "reasonably slip resistant."
Exits
Not only do school exits have to be built well and free from obstruction--both inside and outside of the building--but they also have to abide by National Fire Protection (NFPA) code regarding exit routes, emergency action plans and fire protection plans. Part 1910, Subpart E covers these requirements in detail.
Sanitation
According to Part 1910.141, all areas where employees work must be kept clean to the extent possible, which means keeping classrooms, gymnasiums, cafeterias, restrooms, auditoriums and offices free from loose boards, protruding nails, splinters and any unneeded holes or openings that would interfere with a thorough cleaning of these areas. This section requires the use of leak-free water containers, which must be kept clean and tightly closed. Workplace construction standards allow no space for vermin to reside and procreate, and require an effective extermination program to be in continual use. The required use of potable water assures safety for drinking, cleaning and food preparation.
Electrical
Schools house electrical equipment and installations in order to provide light and power to its structures. Part 1910, Subpart S covers safe use of electrical equipment in facilities where people are employed. It covers safety design, work practices, maintenance and special equipment. Wiring design and protection standards built into these regulations are detailed in this section. Electrical standards could be the most important of all because of the potentially disastrous effects of not adhering to them.