When you are renovating or adding units to an apartment complex, often your final addition will be updated mailboxes to accommodate your tenants. While you may have your own concept of what type of mailbox fits your budget and new decor, the United States Postal Service (USPS)may have other ideas, and as the officially-sanctioned mail service, its regulations constitute law. Save time and money before installation by asking your mail carrier about the laws for apartment dwellers' mailboxes.
USPS Approval
The postal service requires any mail receptacles you select for your apartment house be USPS-approved prior to installation. USPS does not consider door slots or unlocked bins as acceptable for apartment mail delivery; in fact, it requires apartment receptacles to be secure from theft. You may wish to request approval of your mailbox units by a post office employee before you install them. Locking mailboxes, such as those required for apartment buildings, must have mail slots that large enough to accommodate an average day's mail plus larger envelopes and small parcels. In addition, when you relocate or add to your current block of tenant mailboxes, the post office requires you to update existing boxes to comply with their current regulations.
Maintenance and Accessibility
As the property owner, you must maintain your apartment mailboxes to ensure they are accessible for delivery and in good working order. It is your responsibility to keep the mailbox area free of clutter such as tenants' moving boxes or bicycles that might interfere with the mail carrier's access to the boxes. Otherwise you may experience a delay in delivery. Also, USPS requires you to keep the boxes in good repair and properly mounted. A mail carrier is within USPS regulations when choosing not deliver to a bank of mailboxes that has fallen from the wall or has been severely damaged.
Parcels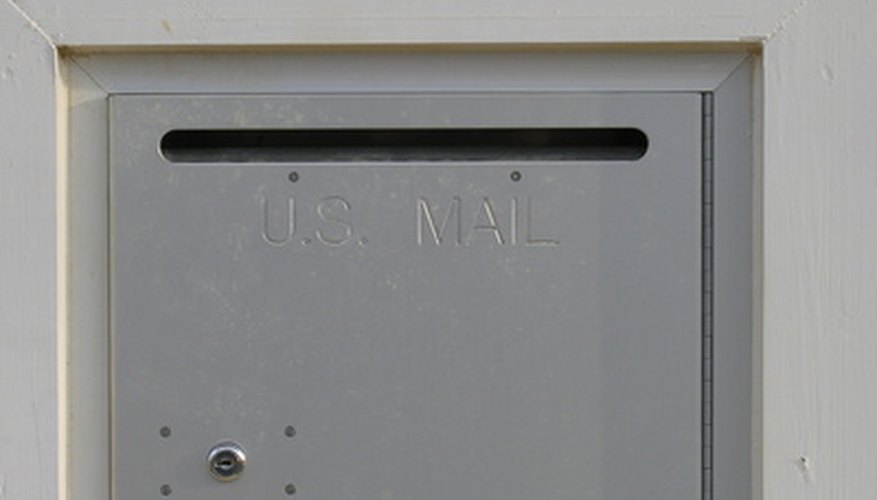 Instituted in 2007, USPS STD-4C regulatory updates have increased the per-unit size requirement for apartment mailboxes from 3 inches by 12 inches to 12 inches by 15 inches, in keeping with the increased package traffic resulting from catalog and online shopping trends. USPS also has instituted a requirement of one parcel locker per 10 mailboxes for apartment dwellers. The parcel holding areas must be secure from vandalism or theft. To reduce unreasonable expense, USPS requires landlords to comply with these updates only when moving, replacing, or adding to existing mail receptacles.
Outgoing Mail
To make mail drop-off convenient to apartment tenants, USPS STD-4C requires landlords provide an outgoing mail receptacle near the mailbox area. The receptacle must be secure to prevent theft.