Table of Contents:
Video Surveillance Laws in Pennsylvania
Pennsylvania has some of the toughest video surveillance laws in the United States. Even law enforcement agencies are prohibited from employing video surveillance in many situations without prior court approval. Along with limiting surveillance, Pennsylvania state law enforces harsh penalties for violating surveillance laws. For example, intercepting an oral communication by use of a video camera is classified as a third-degree felony punishable by substantial time in prison.
Public vs. Private Video Surveillance
Video surveillance is legal in locations where there is no "reasonable expectation of privacy." For example, the city of Philadelphia has many video surveillance cameras to monitor public activity. On the other hand, a private residence or a restroom cannot be videotaped unless certain guidelines are met such, as a warrant from a judge, prior notification, or consent by those who are taped.
One Party Consent vs. Two Party Consent
Under federal law, at least one party must be informed and consent to video surveillance. Generally, this law is used to prevent surveillance by a third party. Federal law allows one party also could videotape the other without his knowledge. However, Pennsylvania requires that all parties must consent to video surveillance. For example, you cannot tape an interview with a public figure without obtaining prior consent. However, one-party video surveillance is allowable as part of a law enforcement investigation if one of the parties being filmed has given prior consent to interception.
Exceptions to Video Surveillance Prohibitions
No prior court approval is required for video surveillance by law enforcement in certain contexts. For example, a law enforcement agent may use video surveillance in a situation involving hostages or a fugitive who has barricaded himself inside a building. However, if a policeman uses a video camera as part of an investigation, the footage will be inadmissible in court unless it pertains to a prosecution "involving harm done to the investigative or law enforcement officer."
Video Surveillance in Correctional Facilities
Correctional facilities in Pennsylvania reserve the right to videotape all inmates as long as the inmates are given prior notification. In order to safeguard the attorney-client privilege, the facility may not record any conversation between an inmate and an attorney.
California Laws for Video Surveillance
In the wake of 9/11, CCTV and other video surveillance devices have proliferated in California and elsewhere. In many cases, the need for these cameras is warranted such as in a bank or prison. At the same time, corporations, private investigators and plain voyeurs have violated privacy rights in their use of video surveillance. For this reason, California state law limits and regulates surveillance in several contexts. In other contexts, however, the courts have given significant leeway to electronic eavesdroppers.
Federal vs. California Constitutional Law
Unlike the U.S. Constitution, the California Constitution contains an explicit guarantee of privacy in Article I, Section 1 of its "Declaration of Rights." Its courts have applied this protection to the workplace, schools and the state government. For this right to be violated, video surveillance must fulfill three criteria: 1) It constitutes an intrusion. 2) It intrudes in a location or context where there is a reasonable expectation of privacy. 3) It outweighs other interests by the gravity of the alleged violation. A good example of a constitutional violation would be if your boss installed a hidden camera inside the toilet stall of a restroom. That would be a location where privacy is assumed and the location could not be justified as a security risk (as opposed to near a cash register).
Surveillance of Public Areas
By 2009, 37 cities in California have established video surveillance systems for law enforcement agencies to monitor activity on public streets. As the American Civil Liberties Union notes in its report "Under The Watchful Eye," few of these cities have privacy policies to regulate the use of these cameras. Furthermore, under the California Public Records Act, private citizens have the right to access any of the video surveillance footage. As a result, there would be a public record of your outdoor movements and activities that could be accessed by anyone at any time.
Surveillance of Internet Cafes
In 2004, the city of Garden Grove passed an ordinance requiring cyber cafes to install video surveillance systems for recording the activity and actions of patrons who use their computer terminals and to monitor all areas of the premises besides the bathrooms and office. The surveillance system is subject to inspection by local law enforcement and all footage must be preserved for a minimum of 72 hours. The law was challenged under Article I of the California Constitution but the law was upheld by the state Court of Appeals. Among other things, the court argued that people in a retail establishment lacked a "reasonable expectation in privacy."
Consent to Videotape
Under federal law, a conversation or other encounter may be videotaped as long as one person consents to the recording. However, California has expanded the law to both parties. As a result, if you wanted to interview a celebrity in a private location, he or she would need to consent to being taped before you could proceed. Violation of this law is punishable under Cal. Penal Code §§ 631, 632. A first offense of electronic eavesdropping is punishable by a fine of up to $2,500 and up to one year of jail. Recording and disclosure of footage carries a separate penalty. Under Cal. Penal Code § 637.2(a), any victim of these violations can recover punitive civil damages of up to three times the amount of actual damages.
Missouri Video Surveillance Laws
Consent and Privacy
In public places such as shops, streets, and government buildings, video surveillance is widespread and completely legal. On the other hand, in locations where an individual has a reasonable expectation of privacy, has not consented to recording, and is in a state of partial or full nudity, video surveillance is considered to be an invasion of privacy and punishable as a Class A misdemeanor (Mo. Rev. Stat. §565.253, sec 1). Also, if a concealed camera secretly videotapes "another person under or through the clothing worn by that other person for the purpose of viewing the body of or the undergarments worn by that other person," the act is punishable even if the surveillance has been conducted in a public place. (Mo. Rev. Stat. §565.253, sec 2).
Enhanced Penalties
If more than one person is put under video surveillance in the methods described in Statute §565.253, the crime will be prosecuted as a Class D Felony. If the perpetrator has already been convicted of the crime as a Class A misdemeanor, a second offense also will be prosecuted as a Class D Felony. And if the offender already has been convicted of the crime as a Class D Felony, a second offense will be prosecuted as a Class C Felony.
Wiretapping Statutes
Wiretapping statutes in Missouri generally are used to prosecute interception of wire or oral communications such as the usage of an unauthorized phone tap (Mo. Rev. Stat. §542.402, sec 1). However, if the camcorder used for video surveillance records an audio track, it may be construed as an illegal wiretap depending on how closely its subjects are monitored and if their speech is audible. If the audio part of the recording appears intended for the use of a criminal or tortuous act, the perpetrator will likely be prosecuted for wiretapping (Mo. Rev. Stat. §542.402, sec 2).
Exceptions to the Law
Covert surveillance is legal when conducted by law enforcement agents for the purpose of acquiring evidence in undercover investigations or "protection of law enforcement officers and others working under their direction in such investigations" (Mo. Rev. Stat. §542.402, sec 1).
Video Surveillance Laws in Ohio
Like many states, video surveillance laws in Ohio need to be interpreted through its wiretapping statutes (Oh. Rev. Code 2933.51-2). Specifically, any unauthorized interception of an "oral communication" is prohibited. While there is no specific law against video surveillance, its usage as a means to intercept an "oral communication" (e.g. video recording at close range with an audio track) may be prosecutable as a criminal offense.
One Party Vs. All Party Consent
In several states (e.g. California), taping a conversation where there is a reasonable expectation of privacy is prohibited without the prior consent and knowledge of all parties. On the other hand, in states such as Ohio, recording is legal as long as one party consents to the surveillance and does not intend to use the footage to commit a criminal offense or other injurious act (Oh. Rev. Code 2933.52, Sec. B-4). However, in public places such as government buildings, shopping centers or banks, overt or covert video surveillance is completely legal without regard to consent.
Penalties for Unauthorized Surveillance
Whoever violates the Ohio wiretapping statute may be charged with a fourth-degree felony (Ohio Rev. Code 2933.52, Sec. C). If found guilty, the offender can face from six to 18 months in prison and a fine of up to $5,000. Generally, the minimum term of six months will be handed down unless the offender has previously served time in prison or if "the court finds that the shortest prison term will demean the seriousness of the offender's conduct or will not adequately protect the public from future crime by the offender or others" (Oh. Rev. Code 2929.14, Sec. B).
Exceptions to The Law
Ohio video surveillance laws do not apply to certain people in certain situations. For example, the law does not apply to surveillance conducted by a law enforcement agent who has been granted an applicable interception warrant from a state or federal judge. It also does not apply to a provider of communication services when used "for mechanical or service quality control checks" (Oh. Rev. Code 2933.52, Sec. B-2). In other words, an Internet company that provides webcam services between users is exempt if the surveillance is used to monitor the quality of its transmissions. Video surveillance is also allowable in police, fire and communications systems as long as the footage is used for administrative purposes only and that at least one "facility" (i.e. location in the building) is not subject to electronic monitoring. (Oh. Rev. Code 2933.52, Sec. B-8).
Florida Video Surveillance Laws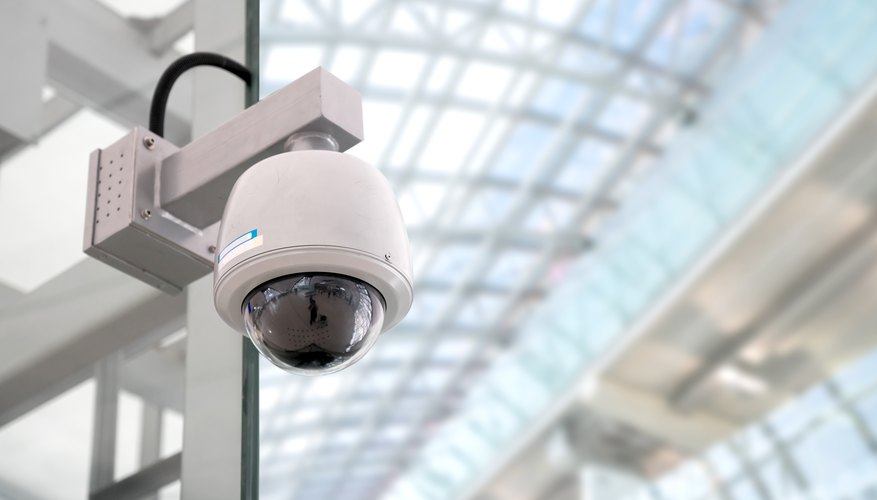 Video surveillance laws vary from state to state throughout America. The state of Florida, for instance, has its own laws that cover cameras and recordings. These laws cover areas such as expectation of privacy, coercion, consent to record and who is responsible for giving the OK on putting up surveillance cameras.
Expectation of Privacy
One of the big concerns about video surveillance in Florida is the expectation of privacy. The Fourth Amendment of the Constitution of the United States reads that when a person has a reasonable expectation or privacy that it is infringing on their rights to invade it. The law has generally applied to places like bathrooms, changing rooms, locker rooms and other places where people have an expectation of privacy. Florida law frowns upon video surveillance in these places, and it's considered illegal to record video surveillance in these places except in narrowly defined circumstances.
Disclosure
In the state of Florida, all parties must agree to the recording of any video surveillance for it to be legitimate and legal. In stores there should be a posted warning that states all shoppers, through their actions of patronizing the store, consent that they are allowing themselves to be videotaped. In other locales such as hospitals and police interviews it's important to get spoken and even written agreement from the person being recorded to ensure that all video recordings or surveillance are completely legal.
Owner Consent
Video surveillance requires the consent of the owner of the property. For instance, if you're renting a house or an apartment you need to get the approval of the owner before installing it. This could also apply for a rented store space. If the owner of the property doesn't consent to allow you to run surveillance on the premises then you may not have legal ability to run video surveillance on your premises.
Laws Against Video Surveillance in Hawaii
One-Party Consent
Hawaii, like most states, requires consent before a video or audio recording can take place. This does not mean that every party involved in the recorded communication must necessarily know about the surveillance, but at least one must know about it and consent to the recording for it to be a legal procedure.
Eavesdropping And Privacy
Hawaii has eavesdropping and privacy statutes that require a "reasonable expectation of privacy" in which a device such as a video camera cannot be used to record actions or conversations of those who do not know they are being recorded when they are in a "private" area.
The Hawaiian law is somewhat confusing in that it prohibits the use of recording devices such as cameras in some instances, but allows them in other situations. For example, an undercover police officer could wear a portable video camera on his person to record other people they were having a conversation with, but the same officer would be committing a crime if he installed a hidden camera in the room to record the same conversation, according to The Investigators, LLC.
Video surveillance is allowed if the recording is done in a place where it is reasonable to assume others could see or hear what is going on. Video surveillance done in a shopping mall or in a public park, for example, would qualify under this exception.
However, private situations such as conversations or actions taking place in someone's home or in a hotel room are protected by law. Only a person consenting to the recording who is physically wearing the recording device and taking part in the conversation or action could legally make the recording.
Installation
The unauthorized installation of recording devices such as video cameras is a crime in Hawaii. Regardless of whether a recording ever took place, the act of installation itself is subject to punishment under the state law. This portion of the Hawaii law would make a recording illegal even if a consenting party were in the room for the conversation because the installation itself was a crime, making the images from the recording criminal as well.
Trespassing on private property for the purposes of installing a hidden recording device is a separate misdemeanor, according to the Brick House Security website.
Oklahoma Video Surveillance Laws
One-Party Versus Two-Party Consent
In public places such as in retail shops and on street corners, video surveillance is legal and commonplace. However, in locations such as private residences or wherever there's a reasonable expectation of privacy, video surveillance by a third party is prohibited by federal law. On the state level, 38 out of 50 states (including Oklahoma) allow video surveillance if at least one party consents to the recording. However, video footage recorded for "the purpose of committing any criminal act" is prohibited. For example, if you videotaped someone engaged in an embarrassing activity for the purpose of extortion, the recording would be in violation of Oklahoma law. The perpetrator of such an act or similar violations shall be punished by a fine of not less than $5,000, imprisonment up to five years or both.
Exceptions to the Security of Communications Act
Any law enforcement agent may conduct video surveillance when at least one of the parties has consented to the recording. Further, if the law enforcement agent employs the services of a third party to conduct the video surveillance, that party is also immune from prosecution. Finally, officers, employees and agents of a communications carrier may not be prosecuted when conducting random monitoring for "mechanical or service quality control checks." For instance, a company that transmitted live video webcams over the Internet could examine the feeds for quality assurance purposes.
Video Surveillance in Oklahoma Prisons
Any officer or employee of the Oklahoma Department of Corrections may monitor inmates as long as they're given "prior and conspicuous notice of the surveillance." In that regard, the Oklahoma County Sheriff's Office (OCSO) installed an HD surveillance system that records inmate activity to "resolve conflicts between inmates or refute false claims of negligence or use of excessive force." The high resolution of the HD footage will allow the Department of Corrections to provide crucial evidence to the district attorney's office that wasn't previously available through analog video.