Table of Contents:
Stun Gun Laws in Virginia
School Property
Stun guns cannot be carried on school property in Virginia. The law defines "school property" as the buildings and grounds of any elementary, middle or high school, be it public, private or religious. The restriction is extended to any other place that is normally open to the public when it is being used exclusively for a school-sponsored function or extracurricular activity. Examples could include a nightclub that has been rented for a school dance, or an auditorium that is hosting a high school basketball game. "School property" also includes any bus owned or operated by a school.
The law makes exceptions for law enforcement officers and people carrying stun guns as part of school-authorized activities, such as someone coming to the school to present a demonstration of a stun gun.
Violation of the school-property restriction is a Class 1 misdemeanor, punishable by up to a year in jail and a $2,500 fine.
Possession by Felons
Any person who has been convicted of a felony is barred by state law from carrying a stun gun in Virginia. The restriction also applies to anyone under age 30 who was convicted of a felony-level crime as a juvenile and to anyone, regardless of age, who was convicted as a juvenile of murder, robbery, rape or kidnapping. However, all of these people are allowed to keep a stun gun in their home for defense. Felons can petition a court for the right to carry a stun gun--or another weapon--if their civil rights have been restored by order of the governor.
Violation of the felon-in-possession restriction is considered a Class 6 felony, punishable by up to five years in prison and a $2,500 fine.
Concealed Carry
Stun guns can be carried concealed. State law requires a permit to carry certain concealed weapons, including firearms, switchblade knives and throwing stars, but not stun guns.
Stun Gun Laws in Ohio
Deadly Weapon Definition
Ohio classifies stun guns as deadly weapons. Therefore, a citizen wishing to carry a stun gun in public must also have a permit to carry a concealed weapon. This will require a background check, which means any citizen with a felony conviction will not be able to carry a stun gun in public or possess it privately.
Locations Where Stun Guns Are Illegal
In 2006, possessing stun guns within schools or on a school's premises was made illegal. Additionally, the penalty for breaking this law was created as a felony of the fifth degree subject to a maximum of 12 months in prison and a maximum fine of $2,500. This law does not apply to state employees, law enforcement agents or officers of any United States government agency where the carrying of a stun gun is deemed lawful and part of normal duties. Properly licensed citizens may carry stun guns to any location except those further exempted by federal law such as airports and courtrooms. When in the presence of law enforcement personnel a person carrying a stun gun must make any officer aware of the weapon's presence and produce proper certification to carry it in public.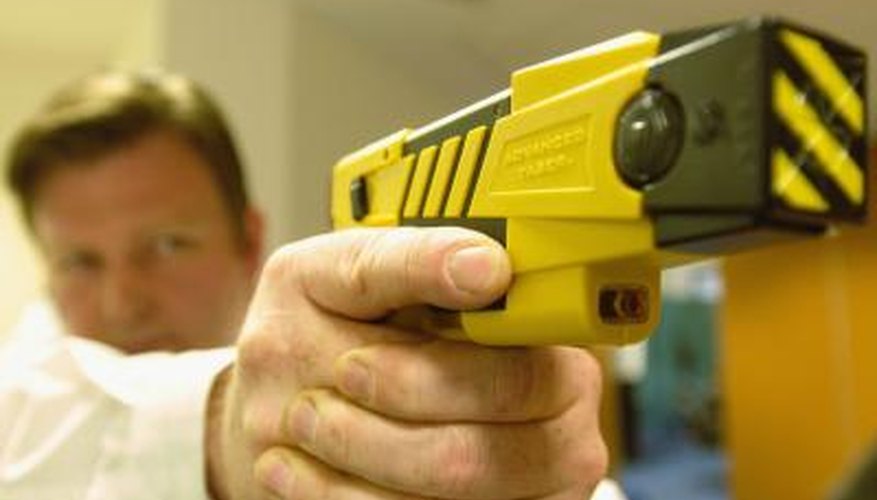 Use-of-Force Policy
Stun guns are used by Ohio police officers under the policy of "use of force," meaning these devices are deployed to subdue suspects when other restraints have failed. According to CNN, in 2007 an officer used a stun gun seven times on a woman being removed from a bar, twice after she was handcuffed. This incident has raised legal issues across the country regarding the use of stun weapons and the acceptable sets of circumstances for use.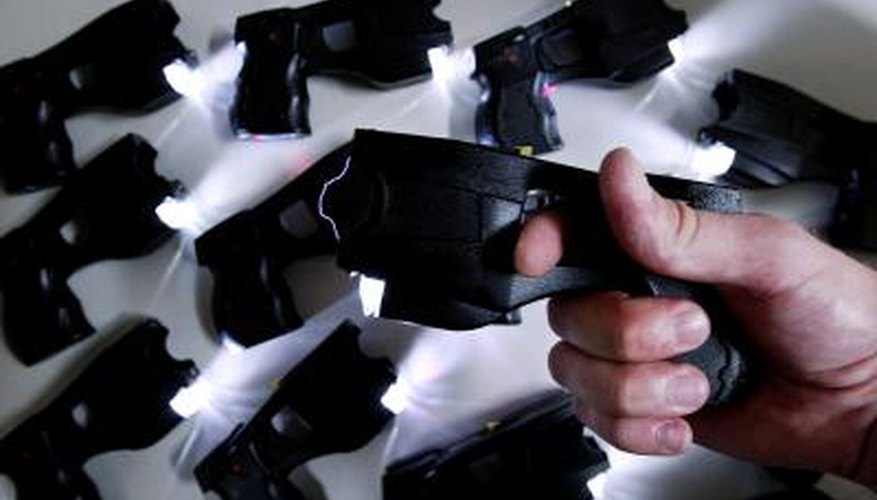 Colorado Stun Gun Laws
Possession
Stun guns cannot be sold to, or be in the possession of, anyone under 18 years old. Also, anyone who has ever been convicted of a felony, is a fugitive from justice, is a drug user and addict or is an illegal alien is prohibited from the possession of a stun gun in Colorado. One does not need a license to carry a stun gun, unlike a true firearm. In any case wherein a stun gun is purchased in Colorado, it is the buyer's responsibility to certify that they are of legal age to buy and possess a stun gun. The seller will not be held responsible should the buyer be found to be breaking the law.
Civilian Use
Stun guns must only be used in training or self-defense. They must not be treated as toys since, even though they are deemed non-lethal, they can cause physical harm and exacerbate pre-existing medical problems, such as those with heart conditions. Stun guns are allowed as concealed protection devices on college campuses, such as at Colorado State University.
Criminal Use
Should a stun gun be used in any Colorado criminal activity, such as burglary or assault, the person or persons responsible will be convicted of a Class 5 felony. In Colorado, as of 2010, a Class 5 felony incurs a minimum sentence of one year imprisonment along with a $1,000 fine, and a maximum sentence of three years imprisonment and a $100,000 fine.