Table of Contents:
How to Remove a Misdemeanor From My Record in Texas
Texas law allows residents to request removal of misdemeanors from their criminal records if they meet certain criteria. Essentially, you can undertake the process only if your arrest did not lead to a conviction. If you successfully completed deferred adjudication probation or probation granted before a case goes to trial, you may qualify to have your records sealed from public view. The record is not removed, but a background check won't reveal the arrest.
Clearing Your Record in Texas
Removing a criminal charge or arrest from your record is called "expunction." It may come as a surprise that even if you were found innocent of a crime or the charge was dismissed, the arrest remains on your record unless you obtain a court ruling to have it removed. Potential employers, future landlords and any organizations that run background checks can discover you were once arrested for petty theft, murder, carrying a gun without a permit or any other crime.
Texas law allows expunction of misdemeanors and felonies when:
You were acquitted of the crime
You were found innocent after conviction
You were officially pardoned
You were charged but the case was dismissed
The statute of limitations for your crime expired before indictment
You were arrested but not formally charged
If you were arrested but not charged with a crime, Texas requires that you wait a specific amount of time after your arrest date before you start the expunction process. Those with Class C misdemeanor arrests must wait 180 days before filing. Class A and B misdemeanors require a one-year waiting period. There's a three-year waiting period for felony arrests.
Sealing Your Record in Texas
An order of nondisclosure exists in Texas law for those individuals who were found guilty, pled guilty, or pled no contest to a criminal charge. When you're granted a nondisclosure, law enforcement and criminal justice agencies will continue to have access to the record, but members of the general public cannot see the arrest when inquiring about your background.
However, you must meet certain criteria to apply for the order. Class C misdemeanor arrests don't qualify. Otherwise, the offer extends only to those who were offered, accepted and successfully completed deferred adjudication probation. This type of probation is ordered before a trial. If you proceeded to trial and were found guilty, and then the judge sentenced you to probation, you cannot request that the court grant a nondisclosure order.
Depending on your offense, there's a waiting period of zero to 10 years before you can seek a nondisclosure order in Texas. Also, you must not have been convicted of any other crime during that waiting period. The judge deciding the case can deny your petition if she feels nondisclosure would not be in the public interest. Individuals convicted of a violent act, such as sexual assault, murder or family violence, generally have a difficult time obtaining a nondisclosure order.
Filing for Expunction or Nondisclosure
The first step is filing a petition, or request, for expunction or nondisclosure with the district court in the county where you were arrested. You can contact the court clerk for information regarding filing fees. The clerk will then schedule a hearing, and you'll appear before a judge who will decide the case.
Because of the legal complexities involved in obtaining expunction and non-disclosure orders in Texas, it's strongly recommended you seek legal counsel before filing. The Texas Bar Association frequently sponsors free legal clinics in various Texas jurisdictions for those who meet certain income criteria. More information is available on its website or through your local legal aid organization.
How to Expunge Misdemeanors in Arkansas
Step 1
Complete your sentence. Under Arkansas law, you must have finished serving your jail time and probation and paid any relevant fines before you can apply to have a record expunged.
Step 2
Make sure you qualify to have your misdemeanors expunged. People who are eligible for an expungement under Arkansas law include those that have been pardoned unless the crime is a sex offense, against a minor, or resulted in death or serious injuries; those who have been pardoned for a crime that happened while they were under the age of 16; non-violent drug offenders who do not have previous convictions involving selling or giving drugs to minors; and those without a previous felony conviction. Crimes can also be expunged after arrests if the charges were later dropped or the person was found not guilty at trial.
Step 3
Visit the Arkansas Crime Information Center's website (www.acic.org) to download a standard petition to expunge and seal form. The petition can be found by clicking the "Forms" tab at the top of the page, and then by clicking the "Courts-Petitions to Seal or Expunge" link on that page. Click on the "Act 532 of 1993 Petition to Expunge" link to download the form.
Step 4
Print a copy of the form and fill it out. You will need to include your case number, information about your arrest and conviction such as the dates they occurred, and the offenses you were charged with, including the relevant sections of Arkansas code.
Step 5
File the form with the court where your case was handled. The court will order the record expunged if it determines that you have met all the requirements and that you have been rehabilitated. .
How to Expunge a Misdemeanor in Indiana
Hire a lawyer to file a petition for you. Though this can be expensive, it will save you time and allows you to work with someone who is familiar with Indiana's laws.
Write your own petition, alternatively, on a piece of 8½" by 11" paper. Include the date you were arrested and the charge. List the law enforcement agency that arrested you and, if possible, the name of the person who arrested you, the police case number and court case number.
Continue the petition by including your birth date and social security number. Write a statement at the bottom where you verify that everything on the petition is true. Sign the petition.
File the petition at the court where the charges were filed or in a court in the county where the arrest took place if no charges were filed. Send a copy of the petition to the agency that arrested you and one to the state central repository for records.
Wait for a decision on your petition. This will take well over a month, because the law enforcement agency has 30 days to file a notice of opposition to your petition.
How to Expunge a Misdemeanor Record in Pennsylvania
Determine if the charges are eligible for expungement. According to the Pennsylvania Expungement Statute, nearly all charges that did not result in a conviction can be expunged -- including dismissals, discharges and acquittals. Charges resulting in conviction that may be expunged are limited to two types: when the offender is at least 70 years old and has not been arrested in the previous 10 years; and, when the offender has been deceased no less than three years.
File a Petition for Expungement with the Court of Common Pleas in the county in which the charge took place. Include the person's name, social security number, date of birth, charged offense, docket number, offense tracking number and the result of the case. An affidavit and proposed order must be attached.
Attend the hearing that will be set by the court to determine if the expungement should be granted. Some factors the court may consider are criminal history, payment of fines, severity of the crime and potential impact on future earnings.
Wait for expungement to be reflected with all agencies. If the petition is granted, copies of the order of expungement will be distributed to all agencies aware of the offense such as court clerks and law enforcement. It may take several weeks for all entities to remove the charge from their official records.
How to Expunge a Misdemeanor in Virginia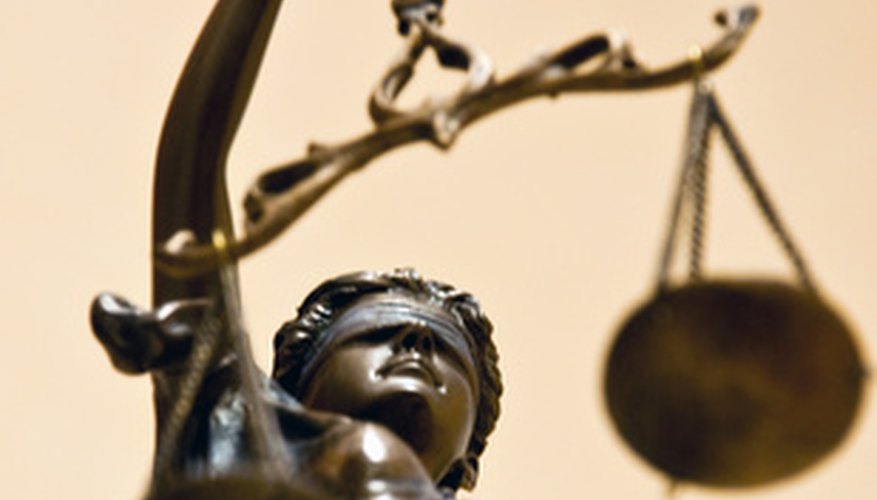 Though a misdemeanor is a minor offense, people that have a misdemeanor on their record often have trouble getting jobs, passing security clearances or even being accepted into schools. In Virginia, a misdemeanor can be expunged, or removed from you record, but you will have to provide proper paperwork and documentation. This can be difficult depending on the circumstances of the misdemeanor.
Determine the Status of Your Misdemeanor
In order to be eligible for your record to be expunged, you must have either been found not guilty by a judge or jury or had your case dismissed. This can include a dismissal without prejudice or dismissal by satisfaction, meaning that you fulfilled the terms of your misdemeanor.
Fill Out Petition Paperwork
In order to be granted an expunged record, you must provide all the details of your misdemeanor and ask for your police records as well as any court records to be expunged. You must include a statement on the petition as to why the record is a hindrance to you and why you want it removed. File the petition in circuit court.
Serve a Copy of the Petition to the Attorney of the Commonwealth
Virginia is considered to be your opposition, so the commonwealth must be served – or presented with the petition – before you can attend a hearing. They can file a response or opposition to the petition if they do so within a timely manner. This will be considered at the hearing.
Request a Copy of Your Fingerprints
You can get a copy of your fingerprints from a law enforcement agency. The fingerprints as well as a complete criminal history will be included with the petition so that the judge can make the best decision about whether to grant you expungement.
Attend the Court Hearing
You will have to go before a judge before he will grant you the expungement. It is up to his discretion whether to grant your expungement. The judge will listen to your statement as well as the statement of the attorney of commonwealth and look over all the submitted documents. A decision will be made whether to expunge your misdemeanor record. If it is found that you have no further criminal record except the misdemeanor you are trying to expunge, then you will be granted an expungement.
How to Expunge a Misdemeanor in Georgia
In the state of Georgia, misdemeanor charges can be expunged at the discretion of a prosecuting attorney as long as certain criteria are met. Expungement is an older term replaced in current court records as a "record restriction."
A misdemeanor consists of any crime that is not a felony and can carry a sentence of up to 12 months in jail and as much as $1,000 in fees. Having a misdemeanor on your record can bring unwelcome consequences when applying for work, filing an application for a housing rental, or in any other type of situation where a background check is required.
Expungement Eligibility
You are eligible for expungement if you can demonstrate the record is inaccurate. If you were charged but not prosecuted, you can request restricted records. If it is your only offense over the past five years, you are also eligible. Juvenile charges where delinquency wasn't filed or was transferred to juvenile court are eligible. Eligibility doesn't guarantee the record will get approved for expungement.
You are not eligible if an indictment or filed accusations were dismissed or entered into a plea deal. Certain actions such as driving under the influence, sex crimes and traffic infractions are not eligible for expungement. If you are uncertain about eligibility, contact the prosecuting court to get more information.
Process for Expungement
The Georgia Bureau of Investigation's Criminal History website has a criminal history search. Contact information center to get a copy of your own history so you know exactly what is on your record. Download and print the "Instructions for Request to Expunge Arrest Records" forms. Note that there will be three forms in all. It lists the conditions that need to be met to start the expungement process, as well as the address and fees associated with filing for expungement.Complete the first section in its entirety.
In addition to your own personal information, you will need the arresting agency's address.Keep in mind that the second section is completed by the arresting agency once you have submitted your application. The arresting agency then forwards your forms to a prosecuting attorney, who either approves or denies your request for expungement.
Status of Expunging Record
Wait for your results. If you're approved, the arresting agency may return your approved request form and fee to you, or automatically forward your approved form and fee to the Georgia Crime Information Center. Mail your approved form and fee to the Georgia Crime Information Center if the form is returned to you. Be mindful that the Georgia Crime Scene Unit's address is located on the first page of the "Instructions for Request to Expunge Arrest Records." To check the status of your request, call the Georgia Crime Information Center at 404-244-2639 or email gacriminalhiostry@gbi.state.ga.us.
How to Expunge a Misdemeanor in Ohio
Step 1
Wait the appropriate amount of time to begin the process of expungement in Ohio. For a minor misdemeanor, you must wait one year following the conviction to begin the process.
Step 2
Go to your local circuit court and speak with the clerk. Ask him for the necessary papers to file for an expungement. Fill out the forms, swearing you have no other convictions or pending charges. Pay the clerk the appropriate fee and wait until a judge hears your case.
Step 3
Attend your hearing and answer any questions the judge has. The judge will look over your case and decide whether or not to expunge your record.
Step 4
Get a copy of the expungement once the judge grants your request. The misdemeanor has now been stricken from your permanent record.