Table of Contents:
Tennessee Handicap Parking Laws
Qualified as Disabled
A driver may qualify as disabled in Tennessee if he has had an arm, leg, foot or hand amputated, or if he has a condition rendering him similarly disabled as certified by a physician. A person requiring the use of a wheelchair and anyone suffering from an ailment that prohibits him from being able to walk 200 feet without stopping to rest is also considered disabled. This includes, but is not limited to, persons experiencing pulmonary or cardiac illnesses, using crutches or wearing a brace. A person is also determined to be disabled if his vision is not better than 20/200.
Parking Fees
Tennessee state law requires all cities and counties to provide free parking to all disabled persons with a disabled parking placard displayed in their car. No fees may be extracted for parking in any metered parking space, on streets, or in municipal parking lots as long as the parking placard is displayed and the disabled person present.
Violations
Any person parking in a parking space reserved for disabled persons who does not have a disability placard is guilty of a misdemeanor and may be fined up to $100. Also, according to state law, a person who falsely represents herself as a disabled person is subject to potential fines and penalties up to and including jail time.
Handicap Parking Laws in Florida
Permit Required
To use handicapped parking, you must have a disabled-parking permit. To get one, you must fill out and submit application form HSMV 83039 to a tax collector's office along with payment for the permit (fees are based on the fee chart in the form). You also must show identification upon submission.
Free Parking
If you have a disabled-parking permit, you may park for free wherever there are meters. There might be limits on how long you can park there, depending on the location.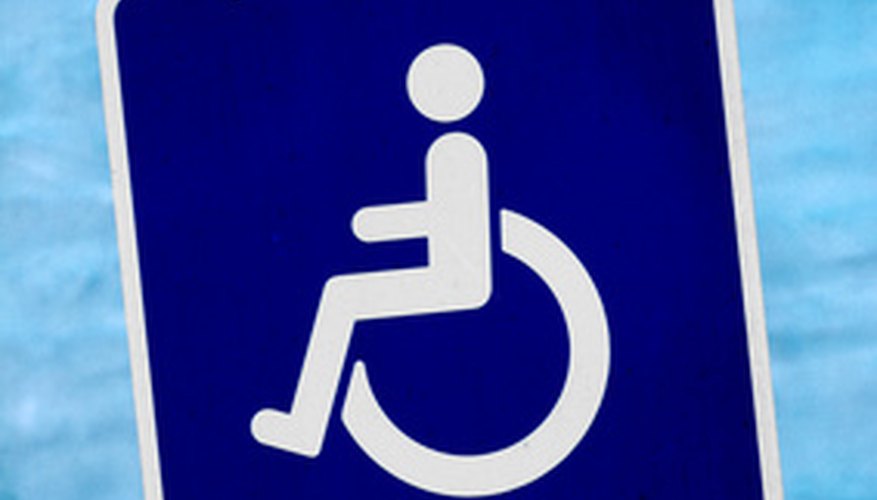 Parking Requirements
According to Florida statutes, you are are allowed to park in parking spots designated as handicapped only if your vehicle displays a permit or license plate showing that you are disabled.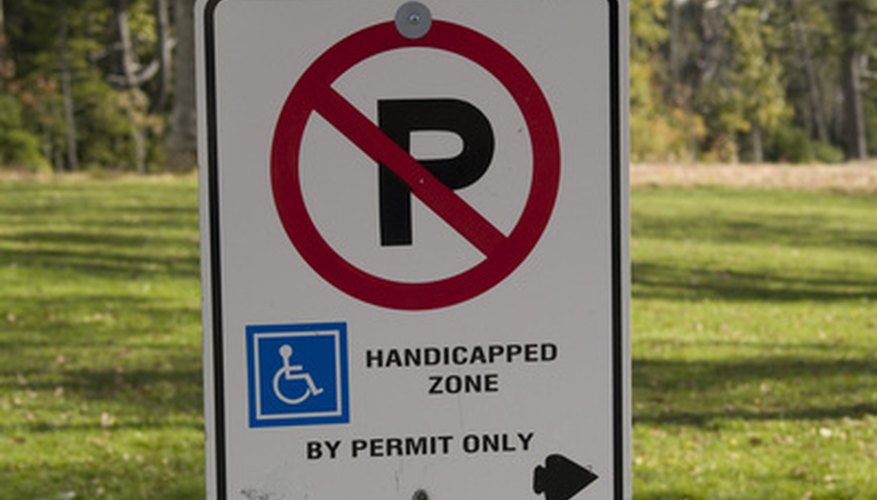 Other U.S. Permits
Disabled permits or license plates from other states displayed on a vehicle are valid in Florida.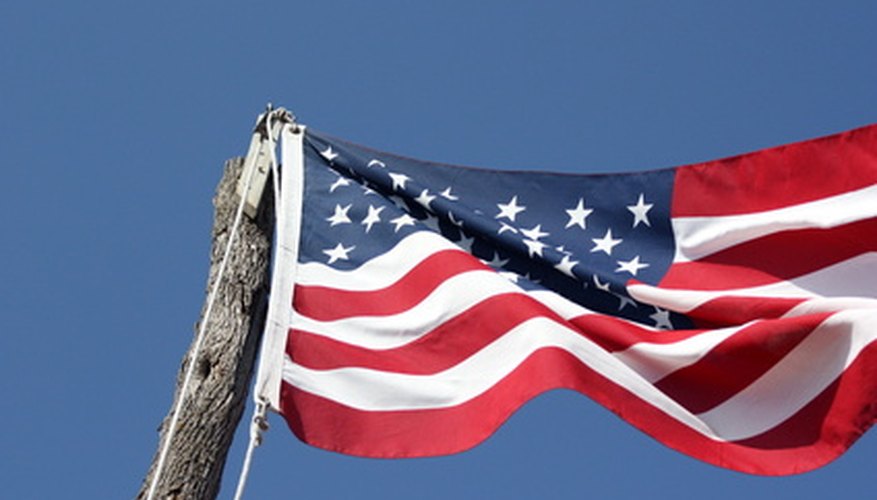 Enforcement
Handicapped-parking laws are enforced by state, county and municipal authorities in the same manner used to enforce other parking laws and ordinances. As of 2009, if you illegally park in a designated handicapped-parking space, you can be fined up to $250. If you use the permit of a disabled friend, relative or acquaintance, you can be fined up to $500 or receive six months of jail time.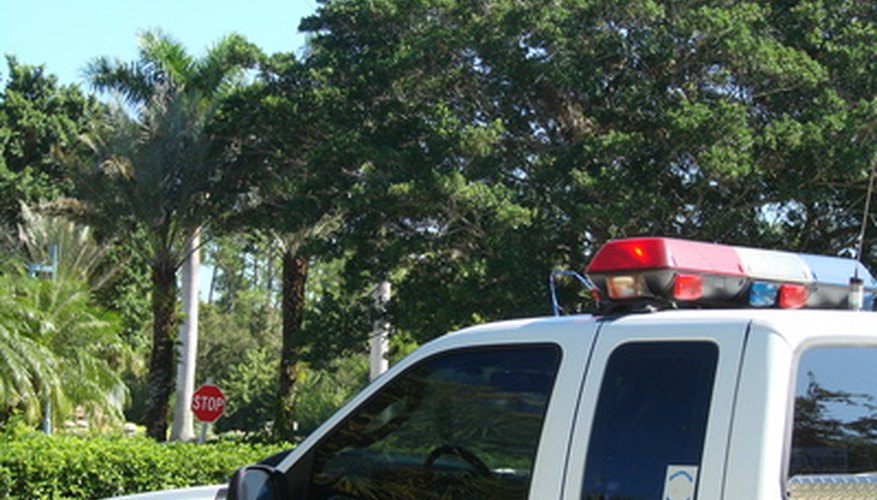 Ohio Handicapped Parking Regulations
Eligibility
To qualify for a disability placard in the state of Ohio, you must be a resident of that state and have a disability that hinders your ability to walk. You must submit application form BMV 4826 to the registrar of motor vehicles and have a prescription from a health care provider. That prescription should include the date, your name, the health care provider's signature and the probable length of time of the disabling condition. The same information can be provided on a health care provider's letterhead. If your ability to walk will be impaired for more than 6 months, the registrar of motor vehicles will issue you a permanent placard. Permanent placards expire on the date suggested by the health care provider, but a renewal application will be mailed to you 60 days before the permit expires. However, if your ability to walk will be hindered for less than 6 months, you will be issued a temporary placard. This placard expires on the date given by the doctor, but you will not be able to renew your permit.
Handicap Parking Spaces
All state agencies, facilities and publicly owned parking garages must provide designated handicap parking spots. These spots must have an elevated sign (permanently affixed or portable) with the international symbol of access (the handicap symbol) marked on them. These signs have to be 5 feet from the ground and located near exits, entrances, elevators and ramps. If a sign has been replaced after October 14, 1999, a second sign must be posted stating the fines for parking in a handicap spot without the proper permit.
Violations
If you park in a designated handicap spot and do not have a disabled placard, you can be charged with a misdemeanor offense. Your vehicle will be towed at your own expense and you can be fined between $250 and $500. If the facility responsible for designating handicap parking spaces does not do so, or marks the disabled spots incorrectly, it will first be issued a warning. But if the facility does not comply, it will be fined a maximum of $25 for each sign that is not up to code or missing.
Virginia Handicap Parking Regulations
Handicap Spaces
Only vehicles that display government-issued handicap-parking license plates or placards may park in spaces marked as reserved for the disabled. These plates and placards are issued in Virginia only to people whose disabilities "impair or limit" their ability to walk; other disabilities are not eligible. Further, vehicles with handicap-parking tags can park in handicap spots only if the disabled person is the driver or a passenger in the car. In other words, a car with only able-bodied people inside cannot park in a handicap spot even if the car has a handicap tag. Handicap-parking privileges are given to a person, not a vehicle; handicap tags merely signify that a disabled person is using a particular vehicle.
Violations
Handicap-parking violators face a fine of $100 to $500, depending on the jurisdiction. The registered owner of the car is liable for any fines, regardless of who was driving at the time.
Fraud
Fraudulently obtaining a handicap license plate or placard, altering a plate or placard, or using a counterfeit plate or placard is a "Class 2 misdemeanor," punishable by up to 6 months in jail, a fine of up to $1,000 or both. Also, a disabled person who lets a nondisabled person use his marked car or parking permit to park in handicap spaces can be fined up to $500 and have his handicap-parking privileges revoked.
Meters
Virginia law allows cars with handicap tags to park at metered spaces for up to 4 hours without paying. Even so, they are subject to the same parking-time limits as other cars. Thus, if a meter has a 2-hour limit, a disabled person may park there for only 2 hours, though she does not have to pay. If a meter has no limit, she can park free for 4 hours and must pay for any time beyond that.
Be warned that local jurisdictions are allowed to opt out of this provision and require that disabled people pay to park in metered spaces just like everyone else. Such jurisdiction must provide some sort of notice--such as signs or a sticker on each parking meter--that all drivers must pay to park.
Enforcement
Any Virginia law enforcement officer can cite vehicles for violating handicap-parking regulations. State law also allows local jurisdictions to empower civilian volunteers to write citations. Such volunteers are not allowed to write tickets for anything but handicap violations.
Arizona Handicap Parking Regulations
Handicapped Parking
Local, county and state governmental authorities are required to provide handicapped parking spaces within public parking facilities to be used only by those with handicapped licensure or identification.
Reciprocal Laws With Other States
Handicapped motorists from other states and countries are allowed to park at handicapped parking spaces in accordance with the laws of their own states or countries. The Arizona director of transportation may enter into agreements with other states extending any specific rights of handicapped citizens in Arizona to non-residents within Arizona.
Fines
Those using handicapped parking spaces without the proper authorization may receive a fine of $50 in addition to the maximum penalty for parking violations of $250, as defined by ARS 25-1598.
Handicapped motorists in violation of Arizona traffic laws may have their handicapped driving privileges suspended.
Volunteer Parking Enforcement
Municipalities in Arizona may establish volunteer parking enforcement groups to specifically issue citations to those violating handicapped parking regulations.
Identification
Handicapped parking spaces must bear the handicapped symbol on a sign in front of the parking area. The symbol must be easily identifiable by the handicapped and the sign must be between 3 and 6 feet tall.