Table of Contents:
Arizona Child Custody Laws & Abandonment
Types
In Arizona, parents can obtain two types of child custody: legal and physical. Although each type involves either sole or joint custody, they both have different requirements. Legal custody grants a parent the power to make decisions concerning the children. If sharing legal custody, called joint custody, then parents must make the decisions concerning things such as medical care and schooling. Physical custody consists of the children living with the parents. With sole custody, the children primarily live with one parent. Joint physical custody, however, requires children to spend time living with both parents.
Noncustodial Parental Rights
When a parent doesn't have primary custody of the children, the parent is considered the noncustodial parent. Arizona Revised Statutes Section 25-408 entitles the noncustodial parent to reasonable parenting time to provide the children with frequent and continuous contact. Parenting time, in Arizona, means visitation. Parenting time isn't granted to a noncustodial parent after a hearing in which a judge determines that visitation would seriously harm a child's emotional, mental or physical health.
Nonparental Custody
Under Arizona law, a nonparent can start child custody proceedings in two ways: filing a verified petition or filing a petition along with an affidavit. The nonparent's petition must include facts pertaining to why she should receive custody. The state can deny petition unless the nonparent, or petitioner, doesn't prove her claim. For example, the nonparent has to prove that it's detrimental for the children to remain with their legal parents.
Considerations
The state of Arizona considers abandoning a child a punishable offense. A parent who abandons a child for at least six months can face approximately three months in county jail if convicted. In Arizona, abandonment includes a failure to maintain a significant relationship or regular contact and a failure to provide minimal effort to talk with or support the children. To prove abandonment, the state must prove that a parent's conduct demonstrated a purposeful intent to relinquish the parental duties and rights.
New Hampshire Child Abandonment Laws in Regards to Custody
Involuntary Termination of Parental Rights
In New Hampshire, the state's child-welfare agency or another interested party may file a petition with the New Hampshire Judicial Branch to request an involuntary termination of parental rights. Section 170-C:5 of the New Hampshire Revised Statutes lists the available grounds for termination of a parent's rights. Subsection I defines child abandonment as a period of at least six months during which the parent left the child without means of support or without communication between the child and parent. Alternatively, the parent may abandon a child by leaving the child without any way to identify the child or parent. If the petition for termination of parental rights includes sufficient facts and evidence to show child abandonment, the parent may involuntarily lose all parental rights, including the right to child custody, on a permanent basis.
Abandonment and Child's Adoption
If a New Hampshire court issues an order with a finding of child abandonment and terminates the parent's rights, the parent no longer has a legal right to receive notice of the child's adoption proceedings. State law allows the child's adoption to proceed without consent of the parent who has already lost parental rights through a court-ordered termination. Accordingly, the adoption may be able to continue and adoptive parents may gain custody of the child.
Parental Absence and Custody
Prolonged absence from a child's life, even if not abandonment for the purposes of an involuntary termination of parental rights, may also affect a parent's custody rights during divorce or other custody proceedings. Under New Hampshire law, the court may consider the child's relationship with each parent when the parents have a custody dispute and need a parenting plan. A parent's absences may affect the quality of the parent-child relationship. After the court has approved a parenting plan, either parent may still petition the court to change the existing order. The parent requesting the change in parenting plan must give a reason for the request; the other parent's absences or infrequent contact with the child may become a reason to modify the parenting plan.
Incapacitated Parent
For some families, a custodial parent has raised the child after the other parent's abandonment, but the court never heard a case to terminate the non-custodial parent's rights. Problems may arise if the custodial parent becomes ill or incapacitated, or dies. Under New Hampshire law, custody rights may revert to the non-custodial parent upon the custodial parent's death. To safeguard the child's interests, a custodial parent may wish to speak with a New Hampshire attorney regarding a guardianship, step-parent adoption or other legal action to protect the child in the event of the custodial parent's death or incapacitation.
State of North Carolina Abandonment of Child Law
Child abandonment and child neglect are often used as interchangeable terms; however, North Carolina law notes that there is a difference between the two. The minimum standards for enforcing child abandonment laws are determined at the federal level, but the appropriate actions, punishments and protocols for handling child abandonment are addressed by each state. According to North Carolina law, a child is one who has not reached his 18th birthday, has not been emancipated, is not married and has not enlisted in the military.
Child Abandonment
The intent of the parent or caregiver is taken into consideration with child abandonment laws in North Carolina. If a parent willingly forfeits the choice in the child's well-being and upbringing with no intentions of resuming care, then the child is deemed abandoned. Statute 14 322.1 defines abandonment as "willfully abandon[ing] his or her child and … fail[ing] or refus[ing] to provide adequate means of support" for a six-month period. Any parent who attempts to hide her location from the child with the intent of avoiding the legal obligation of child support will be charged with child abandonment.
Child Neglect
A neglected child in North Carolina is one who does not receive or is denied adequate "care, supervision or discipline" from the parent or caregiver. Neglect is also defined as the resistance to provide sufficient medical and remedial care. A child is labeled neglected when the living situation is considered unsafe or injurious to his personal welfare. When determining whether a child has been neglected, North Carolina law finds it relevant if the child is suspected to be residing in a home or with an adult where another child has either died or been subjected to neglect or abuse.
Infant Abandonment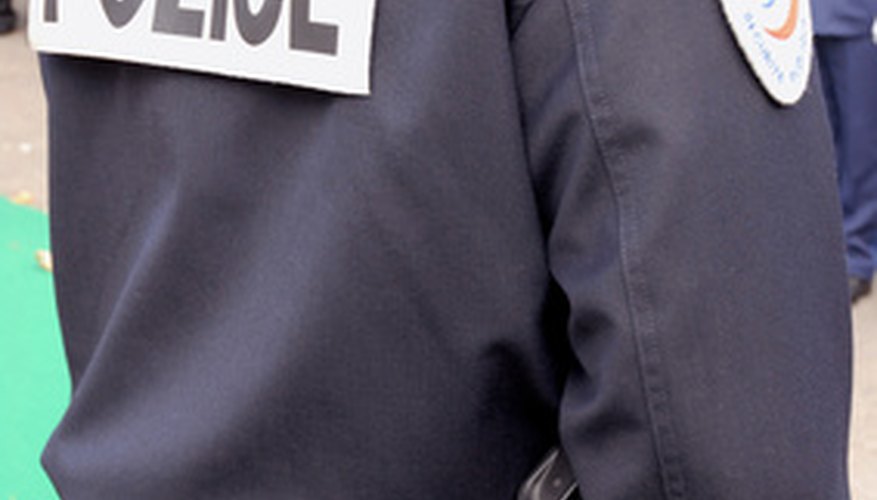 In 2001, North Carolina passed the Infant Homicide Prevention Act that allows parents to legally and anonymously leave an infant up to seven days old with "any responsible adult." Although "any responsible adult" is not explicitly defined, the act suggests several people that fit the criteria: police, medical providers and social services workers. Also referred to as the Safe Surrender Law, this act was put into place to reduce the occurrence of infanticide in the state as well as help parents in crisis or those feeling overwhelmed with the duties of raising a child.
Reporting Abandonment
Each county in North Carolina is required to provide protective services for juveniles who have been potentially abandoned, abused or neglected. It is the duty of protective services to investigate, screen complaints and manage casework. Any person who has reason to believe that a child has been abandoned or neglected must report the incident to the director of the protective services where the child resides. The report can be made by telephone, in person at protective services or in writing. Make sure to include the name, address and age of the child; the name and address of the parent or caretaker; and any evidence of the suspected abandonment or neglect. The state hot line for Child Protective services in 919-733-4622; it can provide contact information for each county in North Carolina.
Legal Actions
After a report has been filed, protective services will open an investigation to assess the validity of the claim. If the investigation determines that abandonment or neglect has occurred, protective services may immediately remove the child and any other juvenile from the residence. If the director decides immediate removal is not necessary, then another means of protective measures will be implemented. When a parent or caregiver refuses to accept these measures, the director will file a complaint asking for the court to assume jurisdiction over the child. In North Carolina, child abandonment is a serious offense, and those found guilty can be charged with up to a Class I felony.
Pennsylvania State Child Custody Abandonment Laws
A parent who is overwhelmed, mentally ill or is controlled by an addiction to drugs or alcohol can feel like caring for a child is too much. In Pennsylvania, a court is permitted to terminate a parent's parental rights if abandonment has occurred. This allows an abandoned to child to be adopted in order to reinstate some kind of stability in the child's life. Additionally, a parent who abandons her child by leaving him without supervision faces criminal penalties.
Abandonment
Under Pennsylvania Constitutional Statute section 2511, if a parent leaves her child in someone else's custody and "refuses or fails" to acknowledge her responsibilities as parent for six continuous months, she has abandoned her child. In Pennsylvania, the child's guardian or another state agency can petition the court to terminate that parent's parental rights. This proceeding involves involuntarily termination, meaning that a court will approve the petition, based on the parent's abandonment, regardless of whether the parent consents to the termination.
Parent's Whereabouts Unknown
When a child is placed in a foster agency's custody and her parent cannot be identified or the parent is known but cannot be located, that child has been abandoned, according to Pennsylvania law. If the parent cannot be located and fails to retrieve her child from the agency within three months of the child's placement, her parental rights will be terminated by a Pennsylvania court.
Agency Custody
If a child has been placed in agency custody because of abuse or neglect, a parent has six months to address the conditions that led to the removal. If a parent does nothing to improve the home environment and the child cannot be returned to the parent's custody, the agency can petition for involuntary termination of parental rights based on the parent abandoning her child. If a parent initially attempted to make improvements in order to get her child back and then failed to follow through, the agency can file a petition for termination of parental rights twelve months after the child was removed from the parent's custody.
Failure to Support
In Pennsylvania, a newborn child is considered abandoned if a parent knows the child exists, but does not live with the child and has failed to provide sufficient financial support in order to provide for the child's basic needs. If this failure to support continues for four continuous months, a court may involuntarily terminate that parent's rights.
Infant Safe Haven Law
In order to prevent harm to newborn infants, Pennsylvania passed an infant safe haven law set forth in Pennsylvania Constitutional Statutes sections 6502 through 6505. A parent is permitted to turn over her newborn infant, younger than 28 days of age, to the custody of a health care provider. That parent will not be criminally charged for turning his child over to a hospital. The hospital is required to perform a medical exam on the infant and contact the local Pennsylvania police department within 48 hours of the parent's surrender of the infant.
Endangering the Welfare of a Child
A parent who knowingly abandons her child by violating her "duty of care," leaving the child without necessary protection and supervision, can be charged with endangering the welfare of a child under Pennsylvania Constitutional Statute section 4304. For example, if a parent leaves her child in a grocery store or alone at home, her child is put at risk for some psychological or physical harm to occur. The reasons for leaving the child alone do not matter. If the abandonment occurs only once, regardless of whether it was because the parent ran to get milk or went to buy drugs, the offense is a First Degree Misdemeanor. If the parent is found guilty, she can serve up to five years in prison and pay a $10,000 fine. If a court finds that the parent established a "course of conduct," continually leaving the child without supervision, she can be charged with a Third Degree Felony. This is punishable by no more than seven years in prison and a $15,000 fine.