Table of Contents:
Alabama Child Abandonment Laws
Termination of Parental Rights
To terminate parental rights, the Alabama court must have clear and convincing evidence that the child's parents are unable to care for the child properly, that their ability to do so will not improve in the near future, and that they are unwilling or unable to give up their parental responsibilities for that child. If the parents have abandoned their child, the court may consider this as clear and convincing evidence and therefore terminate parental rights. If such abandonment continues for four months or more, this is considered proof that the parents are unable or unwilling to act as parents, and rights can be severed.
Misdemeanor Charges for Abandonment
When a parent, guardian or other person legally responsible to care for a child who is under 18 years of age deserts that child somewhere with intent to abandon that child, that person has committed the crime of abandonment. In Alabama, child abandonment is a Class A misdemeanor.
Safe Haven Law
Alabama has what is called a Safe Haven Law, a law that allows parents to give up custody of their baby with no questions asked. To do this, the parent should bring the baby to an emergency medical facility and give the baby to an emergency medical services provider. The parent does not have to give her name or any other information, as long as the child shows no signs of intentional abuse. The baby must be 72 hours old or younger. The EMS provider who received the child should report the incident to the Department of Human Resources by the close of the first business day after the child has been delivered.
What is Considered Child Abandonment in Michigan?
In Michigan, child abandonment is included in the child neglect category under the child protection laws. The neglect category includes failure to protect, improper supervision and medical neglect. Child abandonment fits well in the neglect category, as a child is considered if abandoned if she is left in without supervision or in a harmful environment. There are other conditions that constitute child abandonment as well.
Definition
Abandonment is more than leaving a child alone and unsupervised. According to the Governor's Task Force on Children's Justice of Michigan State, abandonment is defined as leaving a child because the custodial parent or guardian doesn't want to or is unable to take care of the child's "health and welfare." Abandonment also entails leaving the child in the care of a person or agency who is unwilling or unable to assume responsibility for the child.
Abandoned children are often taken to and left at a public place like a hospital, church, school, a department of human services or many other places. It is also common for custodial adults who do not intend to come back and assume responsibility to leave the children at home. Depending on the condition of the child when he is rescued, other charges like child endangerment or abuse may apply.
Age Limits
Child abandonment covers children who are 17 years old and younger. Parents of newborn babies less than three days old can seek protection from the safe haven laws, if they leave the child according to where and how the law stipulates. Otherwise, the penalty for child abandonment is a felony conviction that carries a sentence of one to three years in prison.
Safe Haven Laws
Michigan is a state that allows parents and guardians to leave their child at designated "safe haven" locations as an alternative to abandonment of newborns. The newborn must be less than three days old. These locations include hospitals, police or fire stations and emergency medical services, according to the Child Welfare Information Gateway. Parents are not required to identify themselves.
Stipulations to Safe Haven
Before leaving the child with a safe haven, the parent must give a family and medical history. The provider of safe haven can't be sued if something happens to the infant before it is placed in the custody of a state worker. Exceptions are only in the event of a gross negligence. If it is determined that the infant has been abused, then the parent no longer has safe haven protection and will be prosecuted for abandonment.
Considerations
Despite the safe haven laws, leaving the child for which you, as a parent, have responsibility is still considered abandonment. The safe haven laws can be used to defend against abandonment/neglect charges, but they will not prevent charges being pressed if the courts see fit to do so. Infant safe haven laws do not apply to older children. For example, children older than three days cannot be left at a hospital, church or safe haven location. If the parent does leave the child, the police will investigate, find the parent and charge the parent with child abandonment/neglect.
What Is Considered Child Abandonment in Louisiana?
Child Neglect
Louisiana defines child neglect as the failure or refusal of a parent or guardian to provide necessary clothing, food, shelter, care, counseling or treatment for any illness, injury or condition that result in a child's health and safety being threatened or impaired.
Child Abandonment
Louisiana defines criminal abandonment as leaving a child under 10 years old without adult supervision. Evidence must show the parent did not intend to provide for supervision of the child or intend to return to the child. A parent who commits criminal abandonment can be fined up to $1,000 and/or be imprisoned for up to one year.
Child Desertion
Desertion, according to Louisiana law, is exposing a child under 10 to hazardous conditions from which the child could not reasonably protect himself, either intentionally or through negligence. A first offense of desertion is punishable by a fine of $500 and/or six months imprisonment. A second offense is punishable by a minimum of 30 days imprisonment to a maximum of six months and a fine of $500. This 30-day minimum sentence cannot be suspended or served on probation.
Criminal Neglect of Family
If a parent leaves a minor child without means of support for more than 30 days, this is considered criminal neglect of family. This offense is punishable by up to six months imprisonment and/or a fine of $500. If this fine is not paid, the offending party can be placed on criminal probation.
Infant Safe Haven Laws
In an effort to reduce the number of abandoned children, many states, including Louisiana, have introduced "safe haven laws." These laws allow parents to safely abandon infants without criminal liability.
Louisiana's Safe Haven Law
In Louisiana, a parent may relinquish an infant (not more than 30 days old) by taking the baby to a designated emergency care facility (such as police department, fire station or hospital). The parent must place the child into the hands of an employee of the facility and state he wishes to relinquish the child. Parents who are unable to get to one of these facilities may call 911. A law enforcement officer or emergency worker will immediately meet the parent and take the child to a hospital. Parents who relinquish their children voluntarily in this manner are not subject to charges of child abuse, neglect or abandonment.
Child Abandonment Laws in Arizona
Abandonment
Abandonment of a child is defined in Arizona Revised Statute Section 8-201(1) as failing to supervise or support a child with the intent to allow that neglect to go on for an indefinite time. If this form of neglect continues for a period of six months the statute presumes the parent has abandoned the child. (See Reference 1.) Arizona Revised Statute Sections 13-3619 and 13-3623 to provide that abandonment can be construed as a criminal offense, ranging from a class 1 misdemeanor to a class 2 felony, depending upon such factors as the risk to the child and whether or not the abandonment was intentional. Penalties range from a fine of $2,500 and 6 months in prison for a class 1 misdemeanor conviction, all the way up to 12.5 years in prison for a "non-dangerous" class 2 felony. (See Reference 2.)
Reporting Abandonment
Arizona Revised Statute Section 13-3620 requires certain people to report abuse or neglect, and neglect is defined as abandonment under Section 8-201. Those required to report abandonment include health care professionals, peace officers, school personnel, and parents, stepparents, and guardians. If the child is 14 or older and does not want parental care there is no requirement to report abandonment. (See Reference 3.)
State Enforcement
The Arizona Division of Children, Youth and Families, Department of Child Protective Services has the responsibility to respond to reports of child abandonment. If Child Protective Services receives a credible complaint of child abandonment it will institute an investigation. The department has two priorities in resolving these complaints. The first it to ensure the safety of the child, and the second is to keep the family intact. Whenever possible Arizona Child Protective Services will help the family receive the services they need to stay together and provide adequate care for the child. (See Reference 4.)
Montana Laws on Child Abandonment
Abandonment as Abuse
In the state of Montana, complete abandonment of minor children, defined as children under the age of 18, constitutes neglect under state code 41-3-102, MCA. Definitions, section 7 (iii). Abandonment is listed as the third condition that automatically qualifies as child abuse, and in Montana any parents or guardians who are found to have abandoned their children can be charged with child abuse under state law. Abandonment not only qualifies by itself as abuse, it also counts as neglect of children, which can also be used to charge guardians with abuse in Montana.
Abandonment to Neglect
While the definition of abandonment can get a little gray in cases in which parents are away for days at a time but don't completely abandon their children, a case can still be made for child abuse if the extended time leads to any of the legally defined situations that constitute neglect under state law. These definitions include a failure to provide adequate food, clothing, shelter or medical care, or a lack of supervision to the point that a child's health, safety or well-being are threatened. At that point, abandonment becomes neglect and criminal charges can be put into play.
Child Emancipaton Options
The state of Montana does allow children ages 16 or 17 to petition for limited emancipation. If a child feels abandoned or feels he can make a case for being better off independent of his parents or guardians, then Montana Code Section 41-1-501 lays out the rules for petitioning for limited emancipation. The most common reasons list the youth being able to prove that emancipation is in her best interests, and if the parents or guardians frequently cannot be located, leaving the child abandoned. The minor still has the responsibility of proving that she has money saved up to support to support herself, and that she understands the responsibility that comes with being a legal adult, but this is an option for older children dealing with abandonment.
Utah Child Abandonment Laws
Child Abandonment
Utah code 76-5-109 defines child abandonment as "a parent or legal guardian of a child who intentionally ceases to maintain physical custody of a child, intentionally fails to make reasonable arrangements for the safety, care, and physical custody of the child, and intentionally fails to provide the child with food, shelter, or clothing." If a person does not intend to resume custody of the child, or if a person, within a 30-day period, intentionally fails to resume physical contact of the child and fails to establish a genuine intent to resume physical custody of the child, the person is committing child abandonment. Safe relinquishment of a child, or giving consent to a court order of termination of parental rights, is not child abandonment.
Child Abuse
Child abandonment is a type of child abuse under Utah code 76-5-109. If a person is guilty of having abandoned a child, or having caused or encouraged another person to abandon a child, the person is guilty of a class A misdemeanor. If the abandonment results in physical injury to the child, the person is guilty of a third-degree felony. If the child receives serious physical injury as the result of abandonment, the person is guilty of a second-degree felony. The person can also be liable for the costs related to prosecuting and investigating the case. Any monetary or tangible benefits resulting from relinquishing the child are subject to forfeiture.
Safe Relinquishment
Utah code 62A-4a-802 sets the guidelines for safe relinquishing of a newborn. These laws allow the parents of a newborn to relinquish physical custody of their child without legal repercussions. Utah law allows a parent or designee of the parent to relinquish a newborn, who is 72 hours of age or younger, to personnel at a hospital or fire station. The hospital must be an acute care hospital, which operates seven days a week, 24 hours a day, is equipped with an emergency room, and employs full-time medical personnel trained in emergency medical services. The fire station must also operate seven days a week, 24 hours a day, and it must have full-time, paid firefighters with emergency medical services training.
What Is Considered Child Abandonment in Georgia?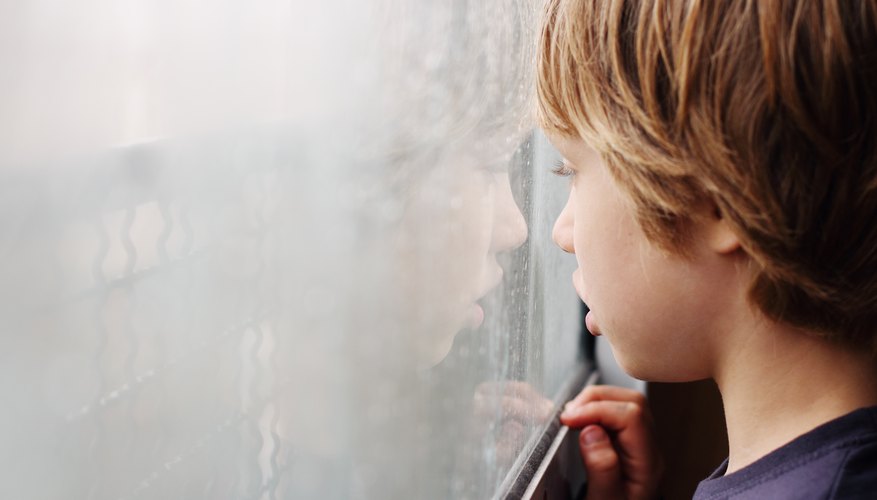 Georgia defines child abandonment as neglecting a child's basic needs for a period of 30 days or longer. This means leaving the child without sufficient nourishment, shelter or clothing. It doesn't necessarily mean that a parent or guardian left the child naked and hungry on a street corner, but rather he failed to take any steps to ensure her basic needs are met.
Child Abandonment Warrants
Georgia law allows a custodial parent to charge the noncustodial parent with abandonment if he stops paying child support. She can request a criminal non-support abandonment warrant from the court. Depending on the county, the court will either determine that abandonment has occurred or judge will order a second hearing. The noncustodial parent can then appear at the subsequent hearing to defend himself or even dispute paternity. The custodial parent must first have an open child support case with the Georgia Department of Human Services. If a child is discovered abandoned by someone who's not a parent or guardian, the state can initiate charges.
Criminal Charges
When a parent is found guilty of child abandonment in Georgia, he faces up to 12 months in prison or a fine of $1,000. Criminal abandonment of a child is a misdemeanor offense unless the parent leaves the state. In this case, the charge increases to a felony, with the parent risking one to three years in prison.
Child Abandonment Laws in Indiana
Indiana has several different laws that relate to child abandonment, including statutes about abandoning babies, statues defining abandonment of a child of any age as neglect, and provisions for criminal penalties. Indiana law also allows the courts to terminate parental rights if a parent abandons a child.
Abandoned Babies
Indiana Code section 31-9-2-0.4 defines an abandoned child as a child who appears to be less than 45 days old and is knowingly left with an emergency healthcare provider without an intention by the parent or guardian to return. Indiana Code section 31-9-2-0.5 defines an abandoned infant as one who is less than 12 months old and is intentionally left by a parent, guardian or custodian in a dangerous place or in a medical facility that has not agreed to take care of the child.
Abandonment as Neglect
Abandonment is also part of the definition of child neglect found in Indiana Code section 35-46-1-4. Under the statute anyone who has the responsibility to care for a dependent child commits the crime of neglect if that person intentionally abandons the child. The basic crime of neglect is a Class D felony in Indiana, but it can be a more serious crime if the child is injured or harmed as a result of the abandonment.
Termination of Parental Rights
In certain circumstances courts have the power to terminate parental rights under Indiana Code Section 31-34-21-5.6. If a parent has been convicted of child neglect, which includes abandonment, as a Class B felony, or if the child was an abandoned infant under the statutory definition in Indiana Code section 31-9-2-0.5, parental rights can be terminated. Conviction for child neglect as a Class B felony means that some harm came to the child as the result of the parent's abandonment. If parental rights are terminated, the parent becomes a legal stranger to the child with no rights of contact. The child can be adopted as the legal child of a stepparent or other adoptive parent.