Filing for divorce is always a stressful time. Trying to file the paperwork without a lawyer can make it that much more difficult. Here are some tips on helping you fill out the forms.
GET THE RIGHT FORMS: Each state has its own forms you need to fill out for divorce as well as its own name for a divorce. The simplest way to get generic forms for your state is to Google "divorce forms" for your state. See also the link I have provided. For purposes of an example, I will use California papers.
READ THE INSTRUCTIONS: On the site that gives you the forms, there are instructions that you must follow for the court to accept your paperwork. For example, California requires that certain information be provided in all capital letters.
UNDERSTAND TERMS: Since you are filing the paperwork, you are the Petitioner and your spouse is the Respondent. In some states you would be the Plaintiff and your spouse would be the Defendant. Since you are not using an attorney to file this paper work, under "Attorney for" you should put "In Pro Per" or "Self."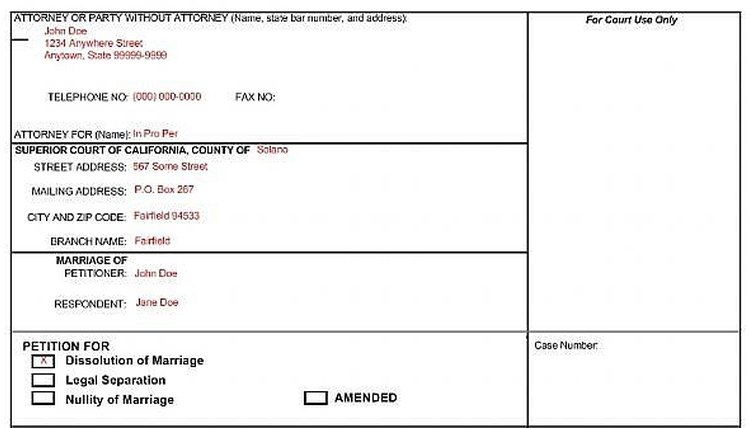 FILL OUT THE HEADING: This information is used by the court for its filing system. So getting the information correct is very important. Don't forget to fill out the heading on all the pages, so if the pages get separated, they can be properly returned to the file. If this is the first form to be filed with the court for this case, you will not have a case number until the paperwork is filed, so leave that blank.
ANSWER THE QUESTIONS: In the California form, there are questions that are asked of the Petitioner (you) so that the court can best assist you with your request. Answer the questions to the best of your ability and be as thorough as possible.
COMPLETE THE DECLARATION: This is a declaration as to the truth of the document you are filing. You must sign this in order for the court to accept the paperwork. Since you do not have an attorney filing this for you, leave the attorney signature blank.
FILE THE FORMS: Take the forms to the courthouse and file them with Family Court.
SERVICE OF THE PAPERS: You will have to have the paperwork served on your spouse. This should be done by the sheriff or a certified process server, so the court has an authentic record of service. The court should have a list of process servers in your area.