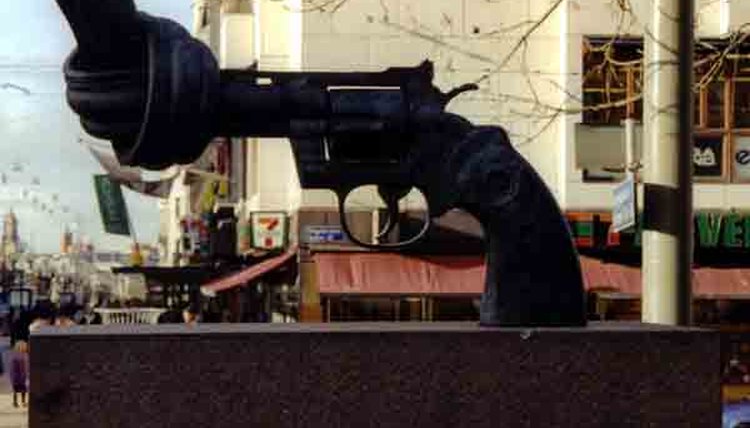 Image Courtesy of TrekEarth (Copyright S.Morris, 2000.)
A felony conviction can strip an individual of certain civil rights. Included in this bracket of lost rights is the right to bear arms. Both federal and state laws consider a felon to be disqualified to purchase or possess a firearm. The Gun Control Act of 1968 further defines a prohibited person under Title 18, U.S. Code, Chapter 44. A prohibited person is one who has been convicted or is under indictment for a term exceeding 1 year; is a fugitive from justice; is a user of unlawful and/or addictive controlled substances; is mentally defective; is an illegal alien or has renounced citizenship; has been dishonorably discharged from the U.S. armed services; or individuals who are subject to a court order of restraint. To be excluded from the list of prohibited persons, convicted felons must determine which sets of statutes are involved. If a federal court rendered the conviction, then the restoration is handled under federal law. If the conviction came under a state court, then the individual can seek relief on the state level. However, there are cases of violent crimes that cannot be adjudicated on the state level.
Convicted felons can have their civil rights restored, including in some cases, the right to own a firearm. The Gun Control Act also addresses the restoration of firearm rights. However, there are significant roadblocks in the form of dead-end procedures and loopholes in the legal jargon. Reinstating the rights to vote, hold public office and serve on a jury can be obtained through mandates in state law but, at times, federal and state laws conflict when considering firearms. Petitions for removal of the federal firearms disability can be directed to the U.S. Attorney General. In turn, the Director of the Bureau of Alcohol, Tobacco and Firearms (ATF) reviews these petitions. However, Congress repeatedly denies the funds necessary to review these petitions. By refusing to fund the ATF review process, Congress suspends the statutory grant of jurisdiction to the federal district courts to review convicted felons' applications for restoration of their firearm privileges.
According to a CNN / Opinion Research Corporation Poll from June 2008, 88 percent of those polled responded that they favor "preventing certain people, such as convicted felons or people with mental health problems, from owning guns." However, not all convicted felons are perpetrators of violent or heinous crimes. There is no legal distinction between these two when it comes to the Gun Control Act of 1968. A felon has a legal process that can facilitate a restoration of civil rights but the Supreme Court ruled in Beecham vs. U.S., 114 S.Ct.1669, (1994) that even if the felon's civil rights have been restored under state law, federal firearms disabilities continue to apply to a person convicted of a federal offense. The best way for a convicted felon to receive the right to bear a firearm is to obtain a presidential pardon. This is not an easy process but can restore the federal felon's rights to vote, serve on jury, hold public office and own a gun. There is little other recourse under legal statute for a convicted felon who wishes to own a firearm legally.